GOLD PRICES rose $10 to a 2-week high of $1265 on Monday morning while the Dollar slipped as newUS-Chinese trade tariffs began and the UK's chief Brexit negotiator resigned over the Government's plan for a trade deal with the EU, writes Steffen Grosshauser at BullionVault.
The US and China started the first round of 'tit for tat' tariffs on $34 billion of each other's annual exports on Friday.
The Dollar index, which measures the greenback's performance against a basket of other major currencies, today fell 0.2% to its lowest since mid-June after Friday's US jobs data showed the unemployment rate increasing while average wages grew less than expected.
European stocks followed Asia higher as the Chinese Yuan also rallied on the currency markets.
"The tariffs were
already priced in
," reckons Josh Graves, senior commodities strategist at RJO Futures.
"Gold needs more than a trade war to push it higher," he added. "It needs volatility in equities, weaker economic data, a dovish Fed.
"Gold needs to see closes above $1275-$1280 before it finds any support."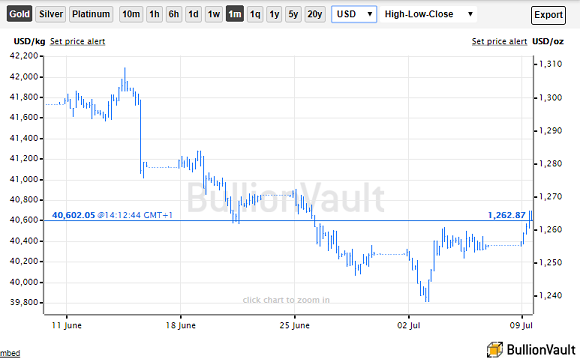 Silver prices
tracked gold, also rising to the highest level since 27 June at $16.20 per ounce.
Platinum and palladium reached multi-week highs at $858 and $967 respectively.
The British Pound also rose against the Dollar on Monday – and it rallied near 1-week highs versus the Euro – after leading Brexiteer David Davis resigned from his role of chief negotiator in protest at Prime Minister Theresa May's proposal for
"a UK-EU free trade zone"
to follow the Article 50 deadline in March 2019.
With May's parliamentary majority needing the support of all her Conservative MPs plus Northern Ireland's DUP, UK bookmakers today
cut their odds
on a 2018 General Election – the third in 4 years if it happened – as short as 9/4.
The UK gold price in British Pounds per ounce moved in a £7 range around last week's finish at £945.
The next round of UK-EU negotiations is now due to start next week.
"With the ongoing US-Sino trade tensions, the resignation of David Davis will likely be a side-show," reckons Singapore-listed bank OCBC's analyst Barnabas Gan, "though it may raise some concerns amongst market-watchers depending on how the overall Brexit issue progresses."