GOLD PRICES fell $10 to new 5-month lows against the rising US Dollar on Monday in London after Washington said the US-China trade war is "on hold", writes Steffen Grosshauser at BullionVault.
Gold touched the lowest level since the end of December at $1282 per ounce before bouncing back to $1285 while the US Dollar rose to a 5-month high versus its major peers on the currency markets.
Most Asian and European stock markets also rose after US Treasury Secretary Steven Mnuchin said that the US and China have set up a framework for addressing future trade imbalances, and have also agreed to suspend the tariff threats that led to high volatility on global markets earlier this spring.
With the Russian energy minister and his Saudi counterpart scheduled to meet in St.Petersburg this week to discuss Opec output quotas, the price of Brent crude stayed near 4-year highs at $78 per barrel.
US oil futures last week reached the highest close in more than three years. 
Priced against oil, one ounce of gold today equaled fewer than 18 barrels of crude, the lowest value since late 2014 and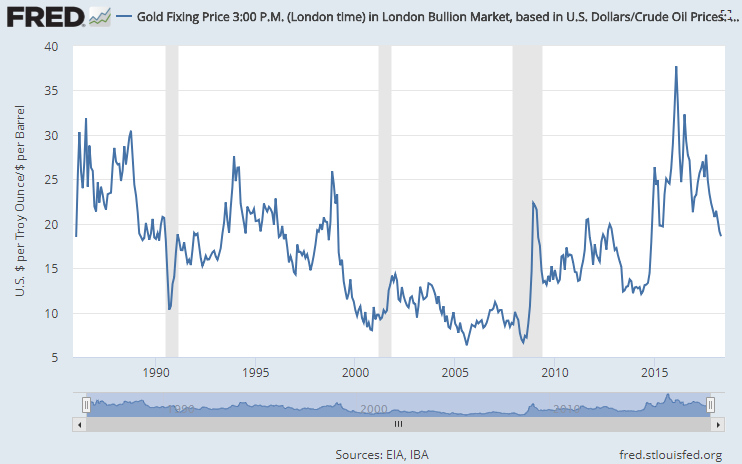 "You have this combination of technical factors which is at the moment un-supportive [for gold]," said Swiss bank UBS analyst Dominic Schnider in Hong Kong.
"As long as the Dollar is on the firm side, gold is under pressure," 
"We expect gold price weakness to continue in the coming weeks and months," reckoned ABN Amro commodities strategist Georgette Boele.
"It is likely that gold prices will fall below $1275 an ounce and test $1250 an ounce this year." 
For Eurozone investors on Monday, gold prices held within 0.5% of last week's finish, trading at €1095 per ounce as Italy's Eurosceptic Five Star Movement and right-wing League party reached a coalition agreement to suggest a new Prime Minister.
"A debt crisis in Italy would have a far bigger impact than one in Greece," notes Commerzbank analyst Eugen Weinberg.
The main Italian stock index fell by more than 1.8% in early deals, while the German and other European markets were closed today due to a public holiday.