GOLD PRICES on Friday marked the first anniversary of Britain's referendum vote to leave the European Union by trading 0.7% lower from 23 June 2016 in Dollars, 1.1% higher in Euros, and 16.0% higher against the British Pound.
European stock markets extended this week's drop as gold prices pushed $5 higher from last Friday to $1258.75 per ounce.
That helding the
MSCI World Index
near unchanged for this month so far but 15.2% higher in US Dollar terms from the day of the UK's Brexit vote.
London's FTSE100 index has risen 17.0% in Sterling terms since what leading anti-EU politician and campaigner Nigel Farage called "the UK's independence day…
a victory for real people
", but it has only gained 1.9% in non-Sterling terms after accounting for the Pound's crash on the currency market.
The
gold spot price
in Sterling rose 0.8% on Friday from this time last week, trading above £988 per ounce.
Gold fixed the afternoon of 23 June 2016 at £851.57, hitting a 3-year peak at £1069 two weeks later.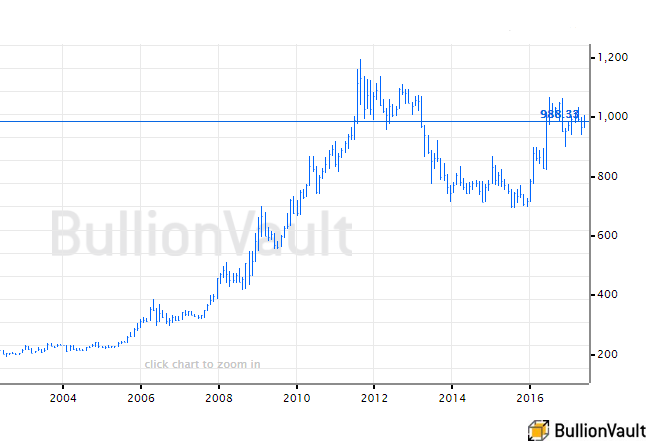 Chinese gold prices meantime fixed Friday afternoon in Shanghai 0.4% higher from last week, with the premium over comparable London quotes rising to 1-month highs near $10 per ounce in the world's No.1 gold-buying nation.
Indian gold prices have also risen to their highest for a month against the global reference of London wholesale quotes, Reuters reports, albeit reaching a premium of just $1 per ounce versus last week's $3 discount for the world's No.2 buyers.
Decided at 3% for gold bullion – and so replacing the current 2% VAT and 1% excise duty –
the new GST
will run to 18% on the fabrication costs of gold jewellery.
"This is
perhaps the best time to buy
gold jewellery," reckons India Today, reviewing the new rates on a raft of consumer goods from mobile phones (12-18%) to laptops (18%), televisions and refrigerators (both 28%).
Meeting EU counterparts meantime in Brussels today, UK prime minister Theresa May was told her proposed "settled status" for EU nationals living in the UK for 5 years prior to March 2019's Brexit deadline is "a first step
but not sufficient
" by European Commission president Jean-Claude Juncker.
Arab states led by Saudi Arabia today issued
a 13-point list of demands
to end their diplomatic and economic freezing out of Qatar over its support for terrorist and political groups.
The demands start with cutting diplomatic ties to Iran, plus shutting down Turkey's new military base in Qatar "immediately", and also include shutting down the Qatari royal family-backed Al Jazeera news service.