GOLD PRICES rose to $1240 per ounce in London trade Tuesday, challenging 4-month highs even as the US Dollar rose amid a retreat in 'risk' assets led by equities.
Silver rose to 4-week highs above $14.60 and palladium jumped to $1232 per ounce – a new record high in Dollar terms and nearing parity with gold
for the first time since 2002
.
Platinum prices
failed to join the precious metals surge however, holding at $804 per ounce – a 10-year low when reached this July.
Gold priced in the Euro traded near 6-week highs as political tensions held firm in France and Spain, and UK gold prices meantime jumped to £973 – up 1.7% for this week so far – as Prime Minister Theresa May continued defending her proposed Brexit deal with the European Union amid a Parliamentary row over the legal advice given to her Government.
Gold priced in Sterling had earlier eased back as the Pound rallied on the FX market after the European Court of Justice's most senior lawyer said the UK could, if it wished, revoke Article 50 before next March's Brexit deadline and remain within the European Union on Britain's current terms
without needing approval
from the other 27 member states.
Dropping again on Tuesday, London's UK-focused FTSE250 stock index has now lost 11% in Sterling terms so far in 2018.
The more international FTSE100 index has dropped 8%.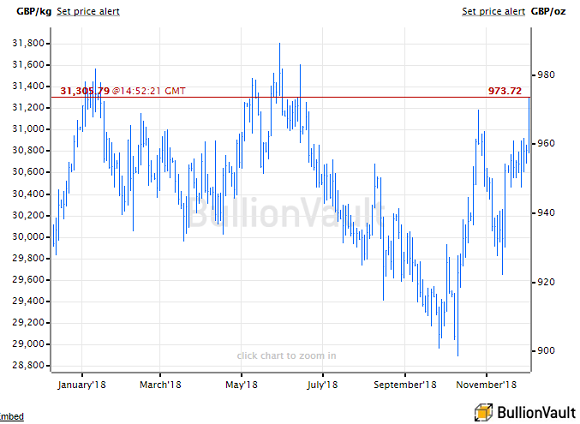 Alongside platinum, yesterday's rally in equity prices also failed to support so-called "crypto-currency" Bitcoin,
which lost over 6% versus the Dollar
only to regain that much early Tuesday.
"The risk-on vibe [has] inspired palladium bulls to continue to
push the metal through $1200
," notes Swiss refining and finance group MKS Pamp.                       
"Tightness in this market continues to play a factor," MKS goes on, pointing to wide trading spreads in palladium – which finds nearly 80% of its end-use in autocatalysts to reduce emissions from gasoline engines – plus high costs for booking physical delivery in early 2019.
As for gold prices, the metal "eased back slightly into [Monday's] close…[but] managed to hold onto the [$1230] handle at the closing bell," MKS's trading team says – "a feat that hasn't been achieved since late October and has proved a big hurdle over the past month."
Euro gold prices today held near €1088 per ounce – the highest since late-October's spike – as France's prime minister Edouard Philippe today gave into demands from the so-called 'galets jaunes' protests which have now seen one person killed and hundreds injured in clashes with police.
After 2 weeks of marches, vandalism and violence from protesters wearing hi-vis yellow vests over the government's new green tax-hike on fossil fuels, Philippe said the tax rise will be suspended from 6 months.
"I doubt that the movement ends here."
Meantime in Andalusia, and after conservative anti-immigration party Vox won 11% of the vote in last weekend's local elections – claiming the first "far right" seats since the fascist Franco era – anti-Vox marches across the southern region last night saw protesters in Granada, Málaga and Seville declare
"We are not afraid."
Italy's bond spread over comparable German yields retreated however, dropping near end-September levels at 280 basis points, as the left-right coalition of M5s and Lega politicians made further
concessions to Brussels
over its 2019 spending deficit plans.
Global stock markets reversed half of Monday's rise, pulling the
EuroStoxx 600 index
over 7% lower from this time last year and putting China's CSI300 more than 18% lower.