GOLD PRICES touched 2-week Dollar and Euro highs above $1270 per ounce Wednesday lunchtime in London, as US bond prices slipped, global stock markets held flat, and wholesale bullion traders worldwide got back to work after the market's premier annual conference ended last night in Singapore.
The London Bullion Market Association conference "is often a time of general quiet in [gold] markets,"
says a note
from Swiss refining and finance group MKS Pamp, "with a number of traders and industry heavyweights off their desks."
"Resistance is in the $1266.10-1267.80 area," a
technical analysis had said
late Tuesday from bullion market makers Scotiabank, "which is the 200-day moving average."
$1264 per ounce represented "first resistance" on French bank Societe Generale's latest gold-price analysis, now turning bullish again after forecasting a drop towards $1200 last week.
The Chinese Yuan meantime edged back Wednesday from new 6-year lows on the FX market, but the Shanghai gold premium still fell below $4 per ounce against global quotes for London settlement an incentive for wholesale imports typically around $2.50.
China's economy grew 6.7% per year in the third quarter of 2016, the government said today, exactly in line with analysts' forecasts and exactly matching the rate of GDP growth from the second quarter.
China's total industrial output missed forecasts for September, slowing to 6.1% year-on-year growth, but total retail sales rose ahead, growing 10.7% per year.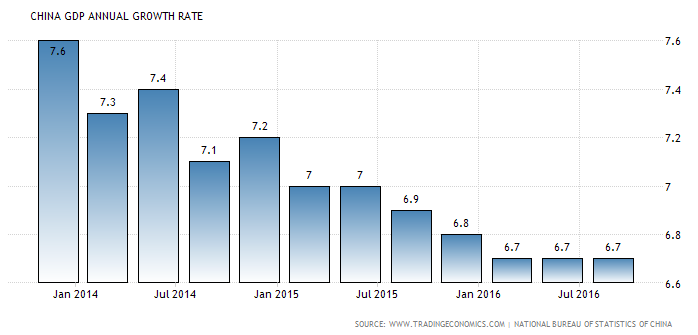 "That isn't all good news," said
The Economist
magazine's Andrew Staples, director of its south-east Asia analysis, in
a speech given Tuesday
– ahead of the new Q3 data – to the London Bullion Market Association's annual conference, held this week in Singapore.
"At some point there's going to be a reckoning" which new government stimulus cannot beat by adding yet more debt, Staples told LBMA delegates, forecasting a drop in China's GDP growth to 4.2% by 2018 – "not far off a hard landing."
The world's No.1 gold consumer, China will see its annual growth in demand for the metal
slow to 4% between 2016 and 2020
, the Ministry of Industry & Information Technology (MIIT) said overnight, slowing from during the previous 5 years.
Delegates were more bullish still on other precious metals, predicting silver up 20% at $20.90, platinum up 13% at $1055, and palladium over 17% higher at $752.50 per ounce.