GOLD PRICES held onto last night's $15 jump Thursday afternoon in London, more than erasing this week's prior 1.0% loss after Federal Reserve chairman Jerome Powell hinted that the US central bank may be about to finish its interest-rate rises. 
Platinum prices also rallied Thursday, but held $20 below last Friday's finish to trade at $823 after data from the miner-backed World Platinum Investment Council said the metal faces a half-million-ounce
surplus of supply over demand
in both 2018 and 2019.
Speaking to the Economic Club of New York on Wednesday, and forecasting "continued solid growth, low unemployment, and inflation near [the target pace of] 2%," Powell said interest rates are now "j
ust below…neutral
…neither speeding up nor slowing down growth."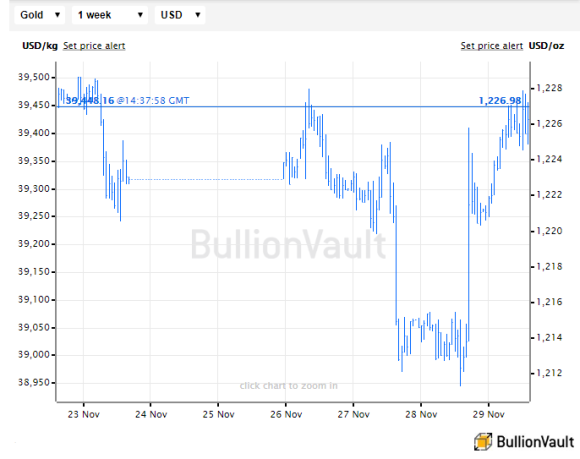 "[Powell's]
dovish remarks are in contrast
to his October comment that the Fed was 'a long way' from neutral," says a trading note from Swiss refiners and finance group MKS Pamp.
"Treasury yields and dollar dropped back, and that was quite supportive of gold…close to the highs we've seen over the past few weeks."
New data yesterday said the US economy grew 3.5% annualized between July and September, in line with analyst forecasts.
But sales of new homes then cratered in October, plunging 8.9% month-on-month against Wall Street expectations for a 3.7%  rise.
While personal incomes and spending rose last month, new figures showed today, the Fed's preferred inflation measure slipped back, missing analyst forecasts.
Last week's US jobless benefit claims were also worse than forecast.
Crude oil meantime rallied Thursday after US contracts fell near $50 per barrel for the first time in 2018 on new data showing US stockpiles
growing for the 10th consecutive week
, suggesting a slowdown in demand.
Broader commodity markets struggled as copper slipped 0.5% to trade unchanged from 3 months ago and nearly one-fifth lower from the start of this year.
"It is unlikely that the yellow metal will break out above the upper bound of its recent trading range just yet," says Canadian brokerage TD Securities' Bart Melek, pointing to $1180-$1245.
The winning forecaster in 2017's gold price
competition from the London Bullion Market Association
, "The market will need to see actual economic data disappointments and a structural move lower in the greenback," says Melek, "before gold is to reach our projected $1300+ levels."
Priced in the Euro, gold today held unchanged for the week at €1078 per ounce as the single currency rose against the Dollar on the FX market.