GOLD PRICES held at 6-month lows against the US Dollar on Monday morning in London as 'trade war' tensions worsened between the world's two largest economies, writes Steffen Grosshauser at BullionVault.
Beijing at the weekend responded to US President Donald Trump's new 25% import tariffs on $34 billion of Chinese goods by
imposing a retaliatory levy
on 659 high-value US goods, including cars, crude oil and agricultural products, choosing the same target value and dates as Washington.
Gold prices bounced to $1281 in wholesale bullion trade after
hitting new 2018 lows
at $1275 per ounce on Friday, breaking this year's previously narrow $80 range for the first time.
Silver prices
meantime stayed close to last week's finish at $16.57 after falling by nearly 5% during Friday's session.
Latest data from the Commodity Futures Trading Commission (CFTC) show that speculative investors raised their net-long position on Comex silver futures and options by the greatest proportion since November 2014 in the week-ending last Tuesday.
Increasing the balance of bullish over bearish bets 8-fold, the Managed Money grew its net speculative long position for the sixth straight week after betting
net bearish since the turn of the year
.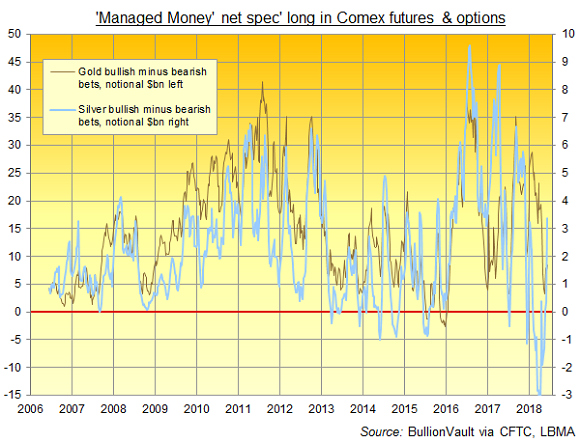 The Managed Money category's net betting on Comex gold futures and options, in contrast, rose just 11% for the week-ending immediate before the US Federal Reserve's June interest-rate rise.
"We have been cautious about gold just because we still see a stronger dollar and the Fed raising rates as headwinds," said Seattle asset group US Bank Wealth Management's Rob Haworth.
"[Gold's] support comes in at $1267 [while its] resistance comes in at $1301," writes Scotiabank in a technical analysis.
Crude oil prices meantime recovered today as the Opec oil cartel prepared to meet this week to discuss raising output quotas.
Asian and European equities, in contrast, tumbled after the latest round of protectionist action in the US-China row, led by Germany's Dax index which declined by 0.9%.
For world stock markets, "A further escalation of US-China trade tensions is
of course a risk scenario
," said Yukio Ishizuki, senior currency strategist at Daiwa Securities in Tokyo.
"But the current tariffs, even if implemented, will hardly dent the global economy."