GOLD PRICES held yesterday's $10 drop on Wednesday, trading at $1214 per ounce against a strong US Dollar after Federal Reserve vice-chair Richard Clarida said his "base case" for 2019 sees a strong economy with a "robust" jobs market.
Also seeing inflation around 2%, Clarida's outlook would meet the Fed's dual mandate for growth and price-stability.
Betting on a December and then January interest-rate hike firmed
in the futures market
and the Dollar rose back near November's 18-month high against other currencies.
That helped curb the drop in gold prices to 0.6% for UK investors at £948 with no change for Euro investors at €1076 per ounce.
"This will become the longest US expansion in recorded history if, as I expect, [it] continues in 2019,"
Clarida said in New York
on Tuesday.
In contrast to short-term rates, longer-term US bond yields were unchanged after his comments, leaving 10-year Treasury rates at 3.06% – some 18 basis points below this month's rise to the highest cost of borrowing since mid-2011.
Gold prices have in 2018 broken what had become a strong inverse relationship with 10-year yields adjusted for 10-year inflation expectations.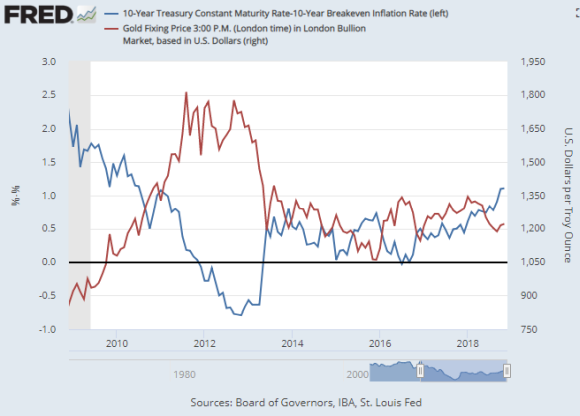 Compared to his last speech, Clarida this time "
omitted" the word 'some'
when saying again that "gradual policy normalization" is needed, says Bloomberg, spurring uncertainty for economists over whether the Fed is looking to pause or not after December's rise.
Gold market traders have now "priced in" 10 of the 12 Fed interest rate hikes which Goldman Sachs expects will mark the end of the cycle starting end-2015, the investment bank said earlier this week.
"If US growth slows down next year, as expected,
gold would benefit
from higher demand for defensive assets," Goldman's analysts went on, calling current prices in commodities, oil and gold "[an] extremely attractive entry point".
For 2019 "we are generally bullish on commodities," agrees French investment bank Natixis, "mainly because we expect that a weaker Dollar and Chinese stimulus will help support demand.
"As we start seeing slowing growth in the US, we might see an upside in gold."
Platinum and silver today joined Dollar gold prices near 2-week lows, falling to $830 and $14.10 per ounce respectively.