GOLD PRICES jumped to 4-week highs against a weakening US Dollar in London trade Wednesday lunchtime, reaching $1288 per ounce as world stock markets followed Wall Street lower for the 5th session running.
New data today showed US inflation holding at the Federal Reserve's 2.0% annual target in October, while
retail sales rose 4.6%
from the same month last year.
Silver and platinum both reached 1-week highs as the Dollar fell to worse than $1.1850 against the single Eurozone currency, its weakest level in a month.
Tuesday in contrast had seen another heavy selling order in Comex gold futures,
notes Bloomberg
, with "erratic volume" in the derivatives market "going from an oddity to a more regular feature of trading."
"Rumours on the market [say] the gold selling may have to do with Venezuela's national bankruptcy," reports today's daily commodities note from German financial services group Commerzbank, after the crisis-hit Latin American state
allowed a swap deal to lapse last month
with former bullion bank Deutsche Bank.
"Possibly this gold has now been sold after the loans were not serviced," says Commerzbank.
A record-high balance of investment managers have meantime been taking "
more risk than usual
" according to the latest survey from Bank of America Merrill Lynch.
Cash holdings amongst managers running $610 billion of assets fell this month to a 4-year low at 4.4%, the survey found.
That disconnect between fund managers' views and behavior points to "irrational exuberance" says BAML's report, using a phrase coined by ex-Federal Reserve chairman Alan Greenspan as the Tech Stock Bubble accelerated in the late 1990s.
"The recent weakness in US high-yield bond prices [has been] diverging notably from stock prices [setting] new highs," says the latest Global Strategy Weekly from French investment bank Societe Generale strategist Albert Edwards.
Within the stockmarket itself, Edwards adds, "there has been a clear divergence in [2017] performance between companies with highly leveraged (bad) balance sheets and those [without]," pointing to a chart from his colleague Andrew Lapthorne.
"Is this a straw in the wind that a bear market is arriving far sooner than most investors had anticipated?"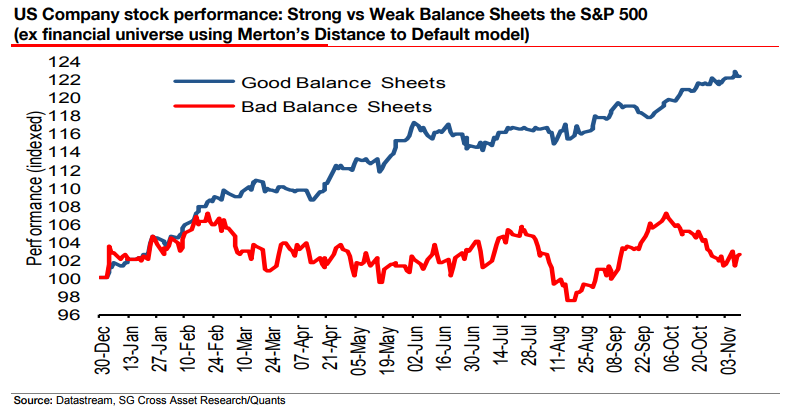 Accounting for 7.3% of global platinum mine supply over the last 5 years, Zimbabwe holds the world's second-largest unmined reserves of the metal behind No.1 producer South Africa.
Rising 3.2% so far in 2017,
the platinum price
has lagged both silver – up 7.6% in US Dollar terms – and gold, now more than 11.5% above its New Year start.