GOLD PRICES fell below $1220 for the fourth time in a fortnight in London trade Tuesday, hitting new 30-month lows for Euro investors at €1038 as the Bank of Japan sparked volatility on the currency markets by tweaking its "continuous…powerful" QE money creation and asset-purchase program.
Vowing to suppress short- and long-term interest rates "for an extended period of time", the
BoJ confirmed rumors
that it will allow 10-year Japanese government bond yields to move around its 0% target.
It also switched its stockmarket ETF purchases from trust funds tracking the smaller Nikkei index to the much larger Topix.
"[These] steps [seek] to alleviate the strain on banks and the market distortions stemming from its policy," says Bloomberg.
But the BoJ will still buy some $53bn of equity ETFs this year, plus over $715bn of Japanese government bonds, and in "stick[ing] to ultra-easy money policy," says the
Wall Street Journal
, Tokyo is "
defying expectations
".
The US Federal Reserve starts a 2-day policy meeting today, with analysts expecting "no change" but a firm promise of further Dollar rate hikes ahead in Wednesday's decision.
With the Dollar gold price falling in tandem with the Yen's FX rate again today, the two assets' correlation on a 5-week rolling basis has now risen above +0.8 so far this summer.
That statistical figure would read +1.0 if gold and the Yen moved perfectly in lockstep, or -1.0 if they moved exactly opposite.
On a 52-week basis, gold has now shown a consistently positive relationship with the USD/JPY exchange rate since February 2013 – the longest such stretch since gold and then FX exchange rates began floating in the early 1970s.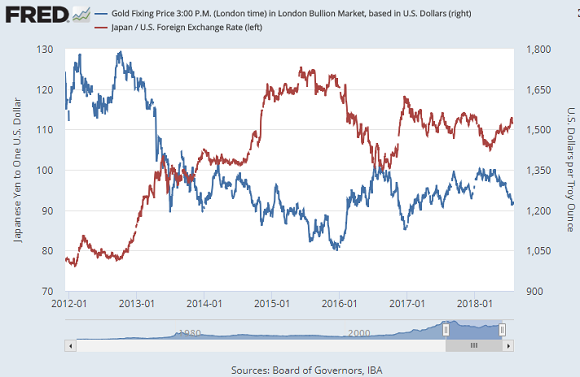 In US Dollar terms, spot bullion has now traded 1.4% high-to-low over the last week, but moved just 1.0% against the Japanese Yen.
London's benchmark price has moved 1.0% against the Dollar over the last week, but Shanghai's benchmark Yuan price has moved barely 0.3%.
Tuesday's news meantime saw the Euro jump almost ¥1 to a 2-week high versus the Yen, and it also rose against the Dollar, nearing its strongest exchange rate in 3 weeks at $1.17.
Euro gold prices
meantime sank to fresh 2.5-year lows at €1038 per ounce, falling over 8% from end-June's 12-month high.
"I think that the momentum towards the 2.0% is
firmly maintained
," said BoJ governor Haruhiko Kuroda of Tokyo's target for annual inflation in consumer prices – last seen at 0.7% and failing to break 2.0% since the VAT sales tax hike of 2014.
"The
markets expected
the BoJ to show a much clearer path," says Keiko Onogi, senior bond strategist at Daiwa Securities Co.
"There are [only] some small wording changes."
Silver outpaced gold's drop on the BoJ news, touching a 0.8% loss for this week so far at $15.40 before rallying 10 cents per ounce back to unchanged.
Platinum meantime outperformed the monetary precious metals, rallying to $833 to trade 4.9% above this month's plunge to 14-year lows in US Dollar terms.