GOLD PRICES rallied from an overnight drop against all major currencies on Thursday in London, challenging new 5-month highs in Dollar terms after the US Federal Reserve yesterday raised its key interest rate as expected but also downgraded its outlook for 2019.
Silver and
platinum prices
also rose back towards this week's highs as Asian and then European stock markets extended Wall Street's overnight slump, taking 2018's slide in Germany's Dax index to more than 18%.
Despite the Fed's hike to short-term US rates,
10-year US bond yields
today held around 2.77%, the lowest level since April.
Raising the overnight cost of Dollars to 2.50%, senior members of the Fed trimmed their
forecast ranges for US economic growth
across each of the next 3 years, and edged their end-2019 interest-rate forecast down from 3.1% to 2.9%.
Betting that the Fed will end 2019 with rates where they now stand today has leapt according to
data from the CME derivatives exchange
, more than doubling the market's view of that likelihood over the last month.
The chances of 2 or more Fed hikes in 2019 have sunk, the same data say, from one-in-three at this point in November to barely 1-in-10 this morning.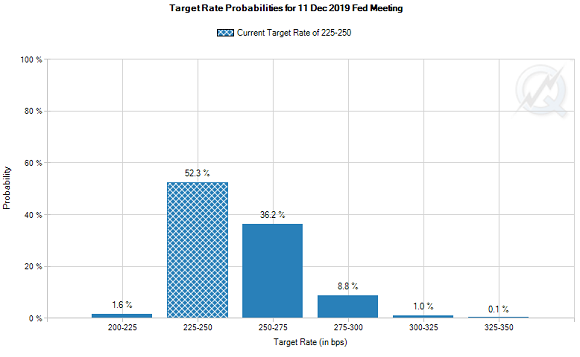 "Political considerations
play no role whatsoever
in our discussions or decisions about monetary policy," said Fed chair Jerome Powell in Wednesday's post-decision press conference, responding to questions about President Donald Trump's repeated warnings to avoid "
yet another mistake
" by raising the cost of borrowing.
Looking at the interest-cost burden on US finances, "The dynamics of the US economy, budget and debt are all going to come very much more into focus in 2019," says bullion bank ICBC Standard's
Tom Kendall in a new video
.
"When you get institutional money coming back into gold, because they feel gold is needed as a diversifier against inflation and uncertainty about what's happening with US rates, that should start to create a more positive story."
Early Thursday's drop in gold prices meant "the market looks to have
over analysed the potential
for a shock December decision [to hold rather than raise rates] and was caught overly long," said a gold note from Swiss refiners and finance group MKS Pamp as London trading opened.
"[That] move lower could be viewed as a healthy retracement, with price action…notably supported by a halt in the Greenback's recent strength and softer global equity markets."
Gold priced in Sterling meantime edged back above £990 per ounce as Parliament broke up for Christmas with no progress on avoiding a "hard Brexit" in 99 days' time, the Bank of England held UK interest rates unchanged, and London's No.2 airport Gatwick was shut by unmanned drones flying across its runways in what police called a "deliberate act" of disruption.
The drones appear "industrial size…[not] one you can buy from the shops," the
BBC quotes
one expert.
"A police helicopter was dispatched to track down the vehicle and its operator, so far without success," says Russia Today's English-language website,
RT.com
.
"We are minded to consider imposing a statutory sanction," Ofcom says.
Euro gold prices meantime held a €1 per ounce gain for the week so far at €1096, capped by the single currency rising to 6-week highs against the Dollar on the FX market.