GOLD PRICES traded near $1275 per ounce on Monday morning in London, holding firm against a strong US Dollar as stock markets fell amid US presidential candidate Hillary Clinton's demands for details of the FBI's latest probe into her private emails to be made public before next week's election, writes Steffen Grosshauser at BullionVault.
Major government bond prices rose everywhere except Italy, where prime minister Matteo Renzi – facing a confidence vote in November's referendum on constitutional change –
vowed to "rebuild everything"
destroyed by the weekend's most powerful earthquake since 1980.
Gold prices jumped over 1% late Friday to the highest level in nearly four weeks after the US Federal Bureau of Investigation said it has reopened its investigation of Hillary Clinton's use of a private email server during her time as secretary of state.
Hedge funds and other money managers had already raised their net long positions in Comex gold for the first time in four during the week-ending last Tuesday, new data released by US regulators the CFTC showed late Friday.
At the same time, the 'Managed Money' category of traders cut their bullish betting in Comex silver contracts for the fourth week running, down to the lowest "net long" position since early February.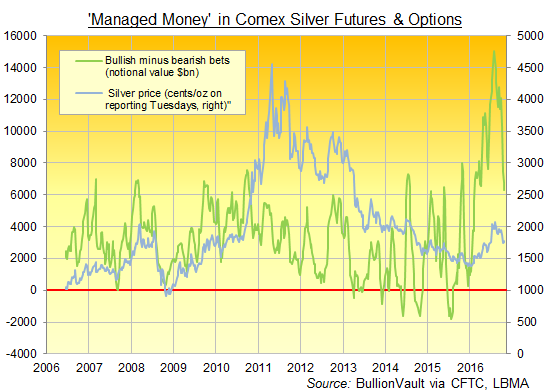 Silver prices held firmer than gold on Monday, trading just 10 cents below Friday's late pop to 4-week highs of $17.92 per ounce.
With her Republican rival Donald Trump having previously slipped badly in opinion polls, around 1% of Clinton supporters are
now less likely to vote for her
, suggests a survey by pollster CBS/YouGov.
"The FBI headlines startled a somnolent gold market, driving bullion higher on concerns that a late October surprise could suddenly bolster Trump's sagging fortunes," says Tai Wong, metals trading director at Canadian brokerage BMO Capital Markets.
"Investment demand for gold should pick up towards the US presidential elections
given the higher suspense
ongoing in the [Clinton] issue," an analyst at ANZ bank wrote on Monday.
"Gold has now held key technical support and looks set for further gains," confirmed trader Jason Cerisola at Swiss refiner MKS Pamp.
Retailers in India – formerly the world's No.1 consumer gold market – meantime reported brisk sales over last week's Diwali festival, culminating Sunday.
"Consumers are back in the market and retailers are all geared up to meet this demand," says the mining industry-backed World Gold Council's India director Somasundaram PR.
With India's jewelry demand for 2016 to date
down over 40% from the first 9 months
of last year, "The level of activity only shows that things have come back to normal in trade as well as at the consumer level," Somasundaram claims.