GOLD PRICES held firm Wednesday in London, trading $10 per ounce above last week's finish even as the Dollar rallied on the currency market.
Asian equities rose for a second day after October's 7.9% drop so far on the MSCI index, but European stock markets turned lower again.
The Dollar meantime pushed back the Euro and Sterling from new October highs and edged the Chinese Yuan – currency of the No.1 gold-consumer nation, where
bank lending rebounded last month
on Beijing's move to ease monetary policy – back towards last week's 17-month lows.
Thanks to the Rupee hitting new all-time lows,
notes LiveMint
, gold prices in India – now the No.2 gold-consumer market, where the Hindu wedding season is now underway ahead of Diwali – have risen 10% so far in 2018.
"Overseas gold has dropped 6%."
Gold prices today hit $1228 in London trade, matching silver's 0.7% gain for the week at $14.68 and outpacing platinum, now edging back below $838. 
"In spite of [Dollar-gold] price gains over the past week," says specialist analyst Neil Meader at
Metals Focus
– launching the independent consultancy's new
Precious Metals Investment Focus 2018/2019
– "it remains the case that professional investors have spent much of this year either shunning the precious metals complex altogether or, over the past month or so, moving to the short side."
Gold ETF trust-fund holdings last month last month to their smallest since August 2017
according to data
from the mining-industry's World Gold Council.
Hedge funds and other money managers then last week held their
largest ever net bearish position
on Comex gold futures and options according to data running since 2006 from US regulators the CFTC.
"Economic, geopolitical and financial market developments have mostly tended to be bearish for precious metals," Meader explains. "In particular, the US Dollar received a boost from further US monetary tightening and growing market consensus of a more hawkish Fed…[plus] the windfall of the tax reform.
"Meanwhile, the trade war between the US and China saw a run emerge on emerging markets, which again boosted the US Dollar and US equities."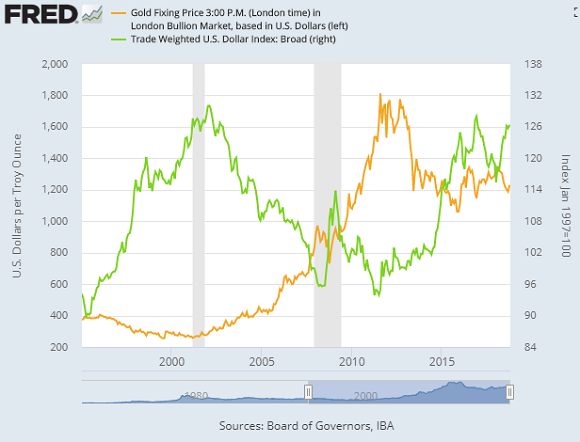 "Some of the headwinds that have weighed on gold this year are likely to persist in the coming months," reckons Meader at Metals Focus, including "a resilient Dollar, elevated bond yields and subdued inflation…[before] conditions slowly turn positive for gold into 2019."
Looking for a steady rise in gold prices to average $1310 per ounce next year, "The main trigger [will be] a gradual asset rotation from equities back into gold by mainstream investors."
Meantime however, "Investors may believe that equities are overvalued but, in the absence of an obvious trigger and the fact the probability of each tail risk is seen as low, there is no rush to jump ship."
Both Poland amd Hungary meantime – the two European Union member states buying gold for their international reserves this summer – were asked by EU ministers on Tuesday to respond over Brussels' fears that their governments are
breaching "EU values and rules"
.
Warsaw's ruling nationalist Law & Justice Party (PiS) wants to force early retirement on 40% of Poland's judges in what it calls "reforms" but which the European Commission calls a threat to judicial independence from government.
Last month the European Parliament also triggered so-called Article 7 procedures against Budapest, again worrying over judicial independence and the "deterioration" of democratic values.
The gold price in Euros again challenged August's highs at €1065 per ounce on Wednesday after the Italian parliament approved the right-left coalition government's
2019 spending plans
, breaching the European Commission's rules on national deficits.
The UK gold price in Pounds per ounce
meantime rose within £1.50 of Monday's 7-week high at £938 as Prime Minister Theresa May followed a heated debate over her Brexit strategy in parliament by heading to meet EU counterparts in Brussels for what is now a summit with
"low expectations"
 for a resolution according to the BBC.