GOLD PRICES in London's wholesale market slipped on Thursday against a rising Dollar, but held onto $10 per ounce of a $15 overnight rally as minutes from the Federal Reserve's latest policy meeting pointed to the unwinding of the US central bank's $3.6 trillion QE asset purchase program.
After the private-sector ADP report suggested tomorrow's official non-farm payrolls estimate for March could beat Wall Street forecasts by 40%,
new data today
said the number of people claiming jobless benefits for the first timee fell again last week, extending the longest run below 300,000 since 1970.
With continuing claims back down to their 4-decade floor around 2 million, that
looks like "full employment"
according to the Reuters news agency.
The second half of the Fed's mandate – targeting inflation at 2.0% per year – meantime
rose above that level
for the first time in 5 years at last count.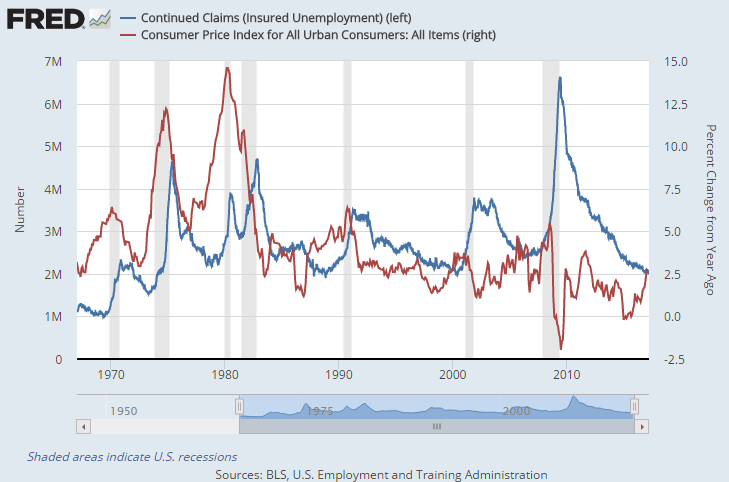 Notes from the Fed's mid-March decision – when it voted to raise interest rates to a ceiling of 1.00% – said
policymakers discussed various targets
for starting to unwind the central bank's quantitative easing program, begun when the financial crisis exploded in 2008.
Almost 4 years after
gold prices sank
at their fastest pace in three decades amid
the 'Taper Tantrum'
spurred by Fed hints about not adding any new QE to the near-$4 trillion done by 2013, "most participants anticipated that…a change to the Committee's reinvestment policy would likely be appropriate later this year," according to the March minutes.
"The number of years we're thinking about just based on the arithmetic is
something like 5 years
," said San Fran Fed President John Williams to reporters today, commenting on how long it might take to let the existing portfolio of QE-paid bonds to mature.
US stock markets slipped for the second day running and Treasury prices rose with commodities, nudging yields lower.
Large bullion bars traded at $1253 as Thursday's PM gold price benchmark auction approached – some $8 below Monday's near 5-month high – but silver fell further, dropping back below last week's finish at $18.27 per ounce.
Gold prices have, over the last 10 years, averaged 
almost precisely a zero correlation
with weekly changes in the size of the Fed's balance-sheet, and shown a small but negative correlation on a monthly basis.
"The timing [for unwinding QE] should be based on a quantitative threshold or trigger tied to the…federal funds rate," said several Fed members at the March meeting, with "most" attendees expecting to make further "gradual increases" on proof of economic strength.