GOLD and SILVER PRICES fell in London trade Monday, dropping to 6- and 4-week lows respectively against a rising US Dollar as world stock markets edged higher but commodities dropped.
Brent crude oil fell to $73.50 per barrel – some $2 below last week's 3.5-year highs – after new data showed a jump in US oil drilling but world No.5 oil producer Iran threatened to 
enrich uranium to a "higher" level
 than before the 2015 deal suspending its nuclear research if the White House of Donald Trump now quits the agreement.
Major government bond prices held firm, nudging longer-term US interest rates down from last week's 4-year highs at 3.0%.
Gold fell 0.9% to $1312.50 per ounce for US investors while silver prices fell another 1.5% after losing 3.5% last week to trade at $16.26.
Both metals moved less in Euro or British Pound terms however, with gold edged only 0.3% lower against the "commodity currency" Australian Dollar.
"The markets have been quiet today with both China and Japan out for holidays," said the daily Asian trading note from Swiss refining and finance group MKS Pamp.
"Gold has once again dipped below the 100-[day moving average] and [now broken through] the support level at $1315.
"Below that the psychological $1300 level awaits."
New data after Friday's close showed a continued divergence in speculative betting on gold and silver, with derivatives on the cheaper metal last week ending their longest stretch of net negative positioning among hedge funds and other money managers since current records began in 2006.
With silver prices spiking and then losing 3-month highs in US Dollar terms, Comex bears cancelled almost one in every four of their short silver contracts in the week-ending last Tuesday, the fastest cut to the gross short position since New Year.
That group's bullish betting on silver meantime grew by 15%, pulling the net position into positive territory for the first time in 11 weeks.
Comex gold in contrast saw bullish betting fall last week as bearish bets grew, taking the net long position of Money Managers on gold futures and options down to its lowest of 2018 to date.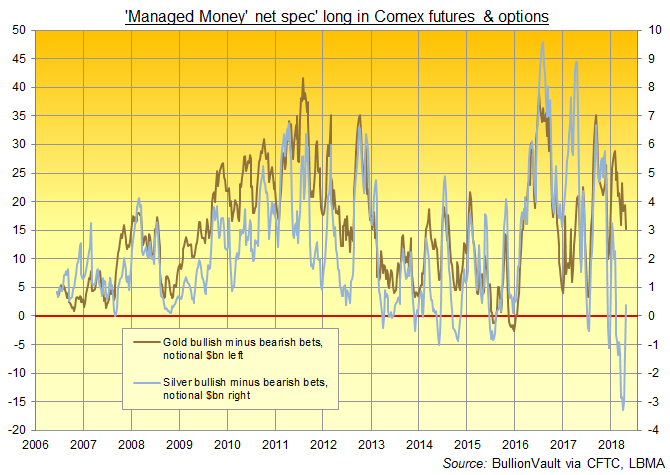 Among the largest bullion-backed trust funds the picture was reversed, with interest in the iShares Silver Trust (NYSEArca:SLV) unchanged at two-month lows last week while the SPDR Gold Trust (NYSEArca:GLD) expanded to its largest size since Donald Trump's surprise victory in the US election of November 2016.
"With 7 new short traders entering the market," says weekly analysis of Comex positioning from French investment bank Societe Generale, "the number of traders has now turned net short."
Silver thus moved over the last 2 weeks from one "mismatch" says SocGen – with net positive betting by the number of traders but net negative by the number of contracts – to another "mismatch", with a larger number of bearish traders but a net positive number of bullish minus bearish bets overall.
"This move has never happened before…[and marks a] possible inflection point."