GOLD PRICES spiked to a 1-week high before retreating against a volatile US Dollar in London trade Wednesday as Russia promised retailiation over the UK expelling 23 diplomats as "undeclared intelligence officers" following the poisoning of a former spy with toxic nerve agent.
The UK also said it is
tightening checks on Russian state-owned assets
in Britian, and the Royal family will not attend this summer's football World Cup, but it stopped short of announcing fresh financial sanctions against the No.2 gold mining nation.
Dropping from $1329 in Asia to stand in line with last week's finish at $1323 by early New York trade, Dollar prices today marked the
10th anniversary of $1000 gold
.
"We consider this hostile action as totally
unacceptable, unjustified and shortsighted
," said the Russian Embassy in London of the UK Government's action, putting "all the responsibility for the deterioration of the Russia-UK relationship [on] the current political leadership of Britain."
The Ruble fell today to 1-month lows against the British Pound, weakening by 12% from this time last year, while Russian gold prices held firm around RUB 75,000 per ounce as the currency weakened.
Russian gold prices set all-time record highs as the Ruble sank amid the wave of financial and personal sanctions imposed by the US and its European allies over Moscow's annexation of former Russian territory Crimea and the conflict in Ukraine starting in 2014.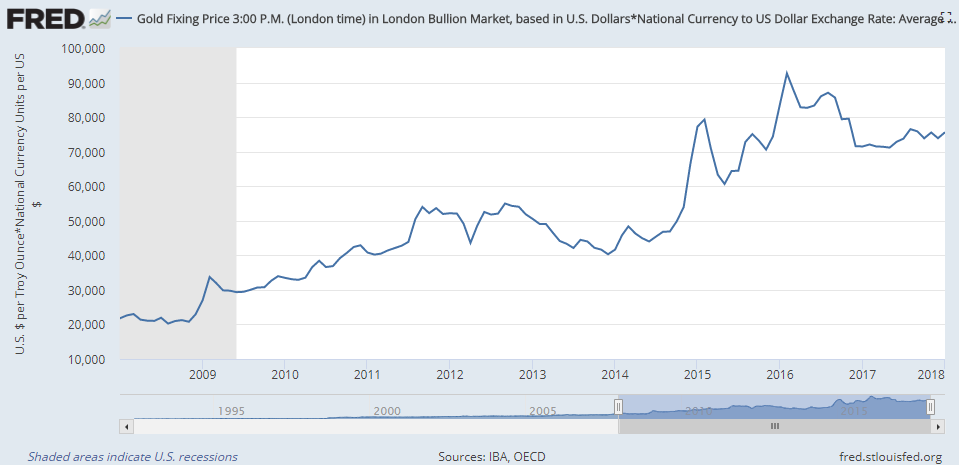 The
UK gold price in Pounds per ounce
meantime fell again to £946 on Wednesday, near its cheapest so far in March and £120 below the 3-year high hit on Britain's shock EU exit referendum result in mid-2016.
London's FTSE100 index of primarily international corporations held flat in Sterling terms, some 8% below January's new all-time high.
Platinum prices
meantime fell steeply after touching 1-week highs above $973, erasing all of its gains from last Friday to trade back at $965 per ounce.
"Platinum closed above the 200-day moving average yesterday, and today crossed above the 100-day moving average," says a technical trading note from Belgian refining group Umicore.
"Platinum recently took support at $941," says a separate technical analysis from French investment and London bullion market-making bank Societe Generale, saying that level "represents the down-sloping trend drawn since 2014 highs.
"A move beyond $972 will mean a rebound towards $988 and even $998," reckons SocGen's team, pointing to "the upper limit" of a channel drawn on platinum's hourly price charts.
Over in Frankfurt meantime today, "There is a very clear condition for us to bring net asset purchases to an end," said European Central Bank chief Mario Draghi in a speech on quantitative easing and interest rates.
"The ECB balance sheet
keeps growing as Draghi continues buying bonds
," tweeted German new group Welt's senior financial editor Holger Zschäpitz last week, noting how new data showed total assets at Eurosystem central banks reaching a fresh high of €4.5 trillion thanks to ongoing QE.
"The volume of the balance sheet now equals to 41.9% of Eurozone GDP vs 22.3% in the US."