GOLD PRICES fell below $1340 per ounce lunchtime Tuesday in London, retreating to unchanged from this time last week against most major currencies after much-stronger than expected US home-building stats.
March saw the number of new building permits rise 2.5% said the Census Bureau, with a revision to February's data cutting the size of that month's drop.
China earlier reported stronger-than-expected GDP data, with the world's second-largest economy expanding by 6.8% annually in the first 3 months of this year.
European stock markets then rose as major government bond yields eased back, trimming longer-term interest rates.
China's Yuan meantime edged higher on the FX market after US President Trump accused Beijing of seeking to win a bigger share of exports by unfairly weakening its currency.
Russia and China are playing the Currency Devaluation game as the U.S. keeps raising interest rates. Not acceptable!

— Donald J. Trump (@realDonaldTrump) April 16, 2018
With Shanghai gold prices little changed on Tuesday, the premium for metal landed in China rather than London rallied to $8 per ounce, back in line with the average incentive for new imports to the world's No.1 gold consumer nation.
China's private gold consumer demand shrank 5.4% in January-March from the first quarter of last year, state body the China Gold Association said today, with sales of investment gold bars sinking 27.6%.
With the Pound jumping on the FX market, gold prices for UK investors fell below £934 per ounce, down 3.2% for 2018 so far.
The gold price in US Dollars, in contrast, traded 3.0% higher from New Year.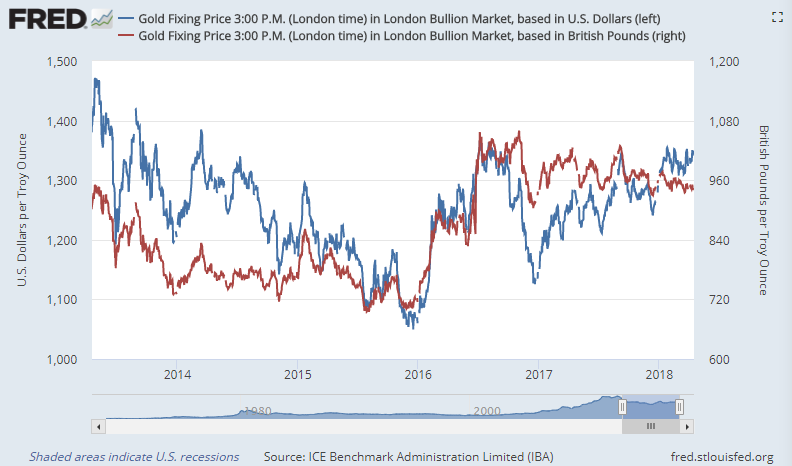 But while the Pound has now regained 19.7% versus the Dollar since early 2017's low, it has rallied only 6.4% versus the Euro.
"The year-long squeeze on wages is nearing an end,"
announces the BBC
in its report on the UK data, using the ONS's figure of 2.8% for February's annual pay growth – in fact, an average of 3 months' figures.
February alone in contrast saw a sharp deceleration in UK pay growth, dropping from 2.8% in January to 2.3%, the slowest rate since July and 0.4 percentage points below the Consumer Price Index's increase.
Based on the monthly and not quarterly data, total UK wages have now failed to beat CPI inflation on 9 of the last 12 months of data.
But "First pay rise in a year 'seals the deal' for further rate rise," says the London Evening Standard, quoting Dutch bank ING's economist James Smith.
"With [this] final piece now in place," agrees fund giant Fidelity's investment director Tom Stevenson, "the Bank of England has the catalyst to follow through on its plans to raise interest rates at the next MPC meeting in May."
"As long as inflation is relatively low, the Fed is going to be gradual."