GOLD PRICES fell out of this week's tight trading range in London on Friday, falling near the lowest Dollar rate of 2019 to date as world stock markets rose sharply.
The metal held a small weekly gain in terms of the Euro, Swiss France and Japanese Yen, but UK investors saw gold priced in the Pound fall to £992 – its cheapest since before Christmas – as Prime Minister Theresa May
discussed "next steps forward"
with European Union leaders after this week's historic defeat of her EU-Brexit deal in Parliament.
European equities rallied by 1.5% on average and New York opened 0.8% higher despite a 9.1% plunge in shares of electric-car manufacturer Tesla (Nasdaq: TSLA) on a profit warning and jobs cut.
Losing 0.5% for the week at $1282, gold bullion's drop coincided with a steeper drop in
silver prices
, down to the lowest since 2019 trading began on 2 January at $15.40 per ounce.
Platinum fell by less, losing $5 for the week at $805 per ounce, while sister-metal palladium – used primarily to reduce emissions from gasoline-engine vehicles – sank 4.0% from yesterday's fresh all-time highs above $1400 per ounce.
"This is the eighth consecutive year where
palladium is going to be in deficit
and there are no signs that it is going to go away," says Dominic Schnider, head of commodities in Hong Kong for the wealth management division of Swiss bank and bullion dealers UBS.
"The question people need to ask here is how long it would take for the car manufacturers to switch to platinum, which is trading around $800."
With a little over 3 weeks until Chinese New Year, gold prices in Shanghai held firm for the week in Yuan terms at ¥283 per gram, some 1.8% below early January's spike to 28-month highs.
Thanks to prices for London delivery edging back during Asian trade, that extended the premium for gold delivered in China towards $9.50 per ounce, the upper-end of 2019's incentive so far for new imports into the No.1 consumer market.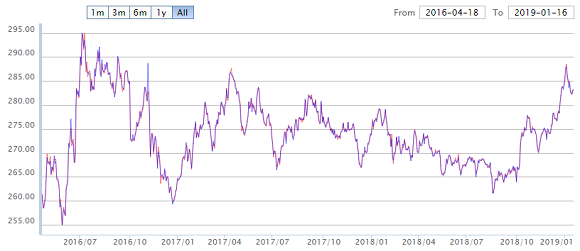 For buyers in No.2 market India, "Prices are just moving higher and higher" as the Rupee retreats from its late-2018 rally, Reuters quotes one Mumbai gold dealer.
"Buyers are
waiting for a correction
in prices and the [Government's] annual budget as there is speculation of a duty cut [for gold imports]."
In contrast to India's gold demand, 
silver imports saw
"a sharp uptick in 2018" says the
Business Standard
, quoting analyst estimates of a 30-35% rise as Dollar prices dropped 8% on average from 2017.
For Dollar investors in 2019, "[Gold] does need a trigger to spark it upwards," said a note from commodity brokerage INTL FCStone overnight, "either in the way of a weaker Dollar, renewed stumbles in US equities or clearer indications of slowing US growth."
The giant SPDR Gold Trust (NYSEArca: GLD) ended Thursday unchanged in size for the 5th session running, needing just less than 800 tonnes of bullion to back the GLD's shares in issue – the most since July.