GOLD PRICES fell further on Monday morning in London against a firm Dollar amid new China-US trade wrangling while anti-immigration nationalists gained votes in Sweden's general election but lagged well behind the main parties, writes Steffen Grosshauser at BullionVault.
The Krona
rallied further
from late August's 9-year versus the Euro and Stockholm's OMX 30 stock index rose 0.7% after Sunday's result saw the Sweden Democrats win almost 18% of the vote, forcing the ruling coalition to
invite discussions with the opposition
about forming a left-right government.
Gold prices dropped to $1192 after it already fallen through what analysts called "key support" at $1200 again last Friday.
Silver and platinum, in contrast, started the week marginally higher, each rising by around 0.2% each.
"[Friday's] strong US nonfarm payrolls led to some modest downward pressure on gold," says National Australia Bank economist John Sharma .
"Going forward, as long as the Dollar is strong, gold will remain constrained."
The giant gold-backed SPDR Gold Trust (NYSEArca:GLD) saw an outflow of nearly 10 tonnes last week. Holdings in gold ETFs worldwide have fallen by more than 124 tonnes since late April. 
Latest data show that hedge funds and other leveraged speculators in Comex gold futures and options cut their bullish betting still further on gold as a group in the week-ending 4 September, but left their bearish betting unchanged.
Overall, that pushed the net short position of Managed Money traders to a new all-time record.
Speculators also raised their net bearish betting against silver to a new series record, according to the data published since 2006 by US regulator the Commodities Futures Trading Commission (CFTC), and built a fresh all-time record short position against platinum prices too.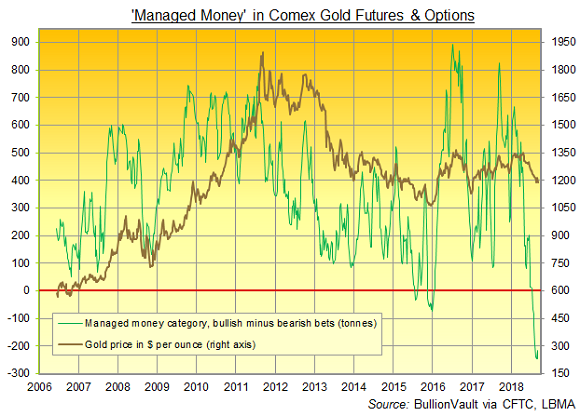 US President Donald Trump at the weekend
warned the government in Beijing
of further tariffs on Chinese imports, in addition to the $200 billion-worth of good already set to be with new levies in the few next days.
That would amount to imposing duties on nearly all Chinese exports to the US. 
If the U.S. sells a car into China, there is a tax of 25%. If China sells a car into the U.S., there is a tax of 2%. Does anybody think that is FAIR? The days of the U.S. being ripped-off by other nations is OVER!

— Donald J. Trump (@realDonaldTrump) September 9, 2018
Beijing said it would respond accordingly if the United States took any new steps on trade.
Back in the financial markets, European equities held flat but Asian shares slumped again after Trump's trade threats, extending the MSCI's index of Asia-Pacific shares outside Japan's worst weekly performance since mid-March.
Trump also
warned suppliers of Apple
(Nasadq: AAPL), the US-listed tech giant, to move their production to the US to avoid the tariffs. 
Crude oil meantime rebounded 0.5% from its biggest weekly loss in two months, pushed higher as US production stalled and further sanctions on world No.5 oil producer Iran are due to kick in from November.
With the Iranian currency already losing two thirds of it value since the return of US sanctions earlier this year, the central bank in Tehran has now given permission for licenced exchange offices to start importing gold along with foreign currency banknotes in an attempt to support the Rial against the rising greenback.