GOLD PRICES moved further below Friday's sudden 5-month high on Monday despite growing geopolitical tensions over Syria and North Korea, under pressure from a stronger US Dollar, writes Steffen Grosshauser at BullionVault.
The Dollar rose to a 1-month high against the Euro while crude oil rebounded another 1% after Friday's spike and sell-off.
Gold slipped from last week's Comex finish at $1254.30 per ounce – itself 1.3% beneath Friday's jump to $1270 on news of US airstrikes against Syria's Assad government – to dip below $1250.
Silver prices
meantime fell from $18 to $17.90 per ounce as this holiday-shortened week began, retreating almost 3.5% from Friday's spike.
Latest data from US regulator the CFTC show that, before last week's jobs data and surprise US policy switch on Syria, hedge funds and other money managers grew their bullish betting on Comex silver futures and options to the second largest size ever net of that group's bearish bets.
Gold's net speculative position, in contrast, was just two-fifths the size of its record peak – also set like silver's in summer 2016.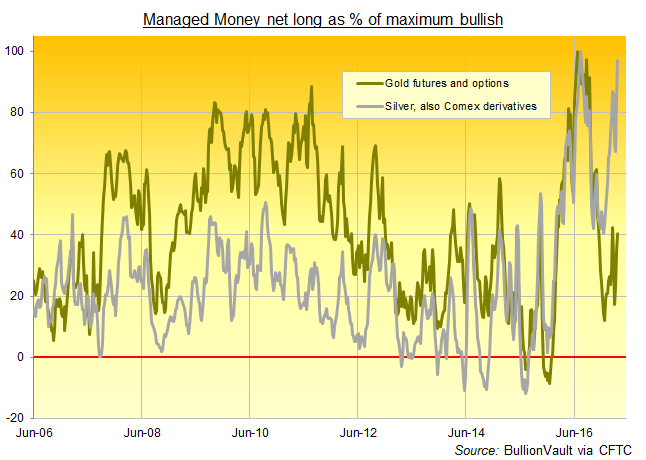 Friday also saw the exchange-traded iShares Silver Trust (NYSEArca:SLV) shrink at the fastest pace in at least 3 years, with shareholders liquidating 346 tonnes of the trust's physical silver backing.
That took the
SLV ETF
's total holdings below 10,000 for the first time since March 2016.
"Unexpected geopolitical events typically have only a short-lived effect on gold," said a note from bullion market-makers ICBC Standard Bank's strategist Tom Kendall late Friday.
"But the other two pillars…of monetary policy and physical demand…look very solid at present."
Friday's weak US jobs data likely "reinforced dovishness " at the Federal Reserve, says Kendall, while India's local gold prices "[are] below last years average [and] we expect March import figures to be a pleasant surprise to the wider market."
But "I don't think gold can have a further upside," says Mark To, head of research at Hong Kong's Wing Fung Financial Group, because while rate hike expectations "have come down, the direction of monetary tightening [is] quite clear."
"Resistance was tested at 1257.60," said Friday's technical analysis from bullion bank
Scotia Mocatta's New York office
, pointing to the gold price's 200-day Moving Average.
Meantime on the geopolitics front Monday, Iran and Russia said in a joint statement that they will
"respond with force"
if the US again attacks their ally President Bashar al-Assad of Syria.
After the US struck Assad facilities it blamed for last week's Sarin gas attack on the rebel-held town of Idlib, US Secretary of State Rex Tillerson said Sunday that other states, including North Korea, could face attacks "if they violate international norms [or] agreements."
"The risks of a conflict have certainly grown, and that should keep the Dollar supported against most Asian currencies," reckons Gao Qi, foreign exchange strategist at investment bank and bullion market maker Scotiabank's Singapore offices.