GOLD PRICES touched 2-week lows against the Dollar on Thursday, and fell harder against the Pound and Euros, as financial markets rose amid growing expectation that the UK will vote Remain in today's Brexit referendum on staying in the European Union.
Eurozone stock markets jumped over 2% as gold prices dipped below $1260 per ounce – down over 4% in US Dollar terms from last Thursday's 2-year high.
London's FTSE100 index lagged Frankfurt and Paris, but rose 1.5% for its fifth daily gain in succession off last Thursday's 4-month lows.
Gold priced in Sterling fell yet again as the Pound rose on the FX market, dropping over 10% from last Thursday's sudden 3-year high at £938 to dip below £845 per ounce.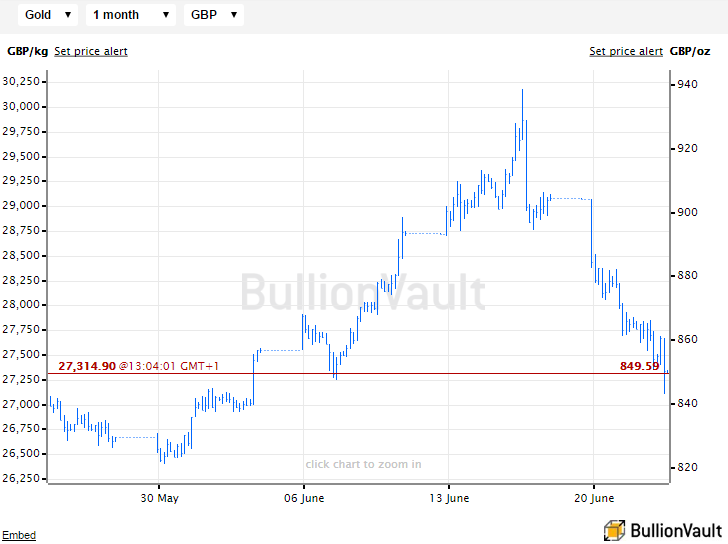 Results are due to start around midnight London time, 2 hours after polls close, with a clear verdict by 5am Friday.
"Whilst the
referendum has had an influence on gold prices
in the last two weeks," reckons UK fund manager George Cheveley at investment bank Investec, "the effect has been small compared to the impact of US interest rate and US Dollar moves over the past few months.
"Negative real rates, the US election and Chinese debt levels are also worrying investors."
Shanghai gold prices steadied overnight, edging higher from 2-week lows even as the Chinese Yuan rose on the FX market.
That reversed yesterday's $3 per ounce discount on Chinese gold versus international prices to a $5 premium at the benchmark Shanghai Gold Price auction.
"[Bullish gold bets] have
started to correct
," said a note from Canada-based bullion bank Scotia Mocatta, "but the net long fund position is still large, so further profit-taking may follow.
"ETF investors continue to buy and there have not been many redemptions – this suggests sentiment remains bullish."
Investor demand for shares in gold ETF market-leader the SPDR Gold Trust (NYSEArca:GLD) expanded yet again on Wednesday, extending its growth 1.7% since prices hit 2-year Dollar highs a week ago to need 915 tonnes of bullion backing – the largest quantity since September 2013.
The leading silver ETF in contrast – the iShares Silver Trust (NYSEArca:SLV) – has shrunk by more than 200 tonnes since mid-June to 10,360 tonnes, its smallest size since start-April's then 16-month high.