GOLD PRICES slipped $10 per ounce from last week's 2-month highs on Monday morning in London as the US Dollar rallied and global stock markets rose on what analysts and pundits called a retreat in nuclear tensions between the US and North Korea, writes Steffen Grosshauser at BullionVault.
Crypto-currency Bitcoin meantime spiked to new all-time record highs above $4000,
doubling inside 1 month
after dropping by one-third from 11 June's then all-time high of $3000.
Gold today edged down to $1281 per ounce after hitting the highest level since 7 June on Friday amid the belligerent rhetoric between the governments in Washington and Pyongyang, plus a lower-than-expected rise in US consumer prices for July.
With betting on a September rate-hike from the US Federal Reserve falling to zero, betting on rates being higher by the end of 2017 has sunk from 43% a month ago to 35% today according to the CME Group's analysis of interest-rate futures.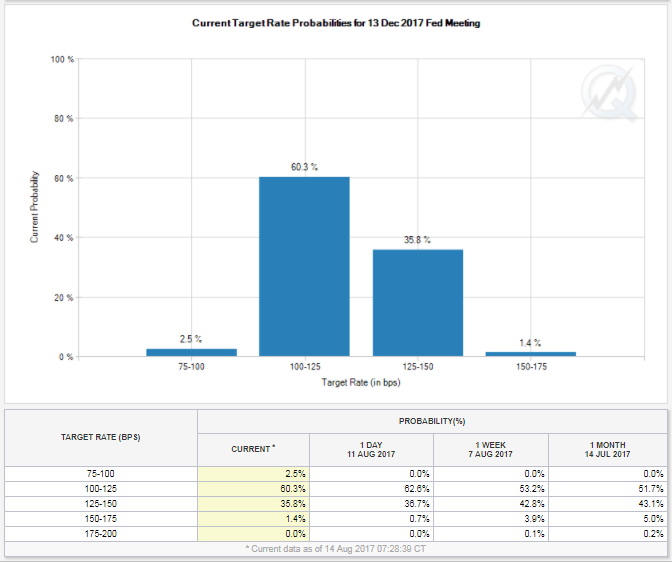 "I've heard folks talking about that we're on the cusp of a nuclear war," Central Intelligence Agency Director Mike Pompeo said on Fox News Sunday.
"[However] I've seen no intelligence that would indicate that we're in that place today."
"We're not closer to war than a week ago," agreed national security adviser H.R. McMaster on ABC's
This Week
.  "But
we are closer to war
than we were a decade ago."
"Although more aggressive rhetoric between the US and North officials would temporarily boost gold prices," reckons John Davies, Global Commodities Strategist at risk and business  consultancy BMI Research, "we see outright military action as unlikely and upward pressure on gold prices stemming from the confrontation as limited."
Betting by speculative traders on rising gold prices has already risen last week before Wednesday's upturn in the US-North Korea standoff, according to data released Friday by US regulators the CFTC.
Net of bearish bets, the Managed Money category of traders in Comex gold futures and options raised their bullish bets by 12% from a week earlier, reaching the largest net speculative long position since mid-June saw gold prices make their previous retreat from $1290 per ounce.
While bullish bets actually grew only 2%, bearish bets were slashed by more than 30% for the third week in a row.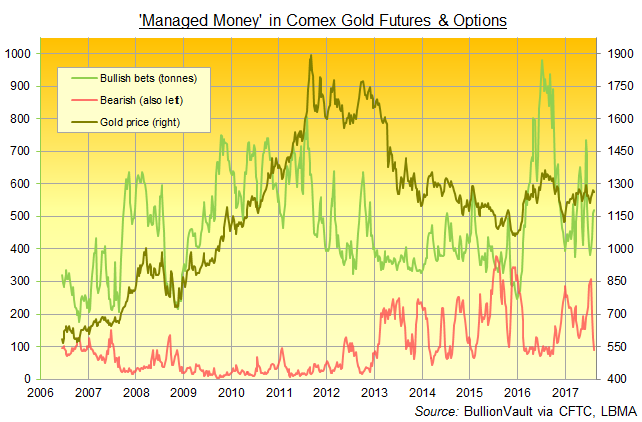 After President Donald Trump last week tweeted repeated threats of "fire and fury" against Pyongyang if it dares to launch missiles towards the US island and militrary base of Guam, he spoke at the weekend with counterpart Xi Jinping of China – the only major trading partner of neighboring North Korea.
Xi asked that "relevant parties should maintain restraint and avoid words that exacerbate tensions". 
"Prospective
risks are now rising
and do not appear appropriately priced in," said Ray Dalio, founder of the $160 billion Bridgewater Associates hedge fund, last week.
Global political
risks plus surging demand
from consumer-nations China and India could send gold prices jumping to $1360 per ounce within three months, says Russian investment bank VTB Capital JSC's head of precious metals Evgeny Ananiev, before climbing to a 4-year high of $1400.
Silver meantime tracked and extended the move in gold prices on Monday, first rallying to $17.22 per ounce before retreating below last week's close of $17.12.
Platinum fell hard, down $16 after hitting a 5-month high at $990 last Friday.