GOLD PRICES popped $5 but held on track for the 7th weekly drop in 9 against the Dollar on Friday after new US data matched analyst and President Trump's forecasts with the fastest GDP growth since 2014.
Falling within $6 of last week's 1-year low at $1211.89 this morning in London, gold prices then bounced above $1224 after the world's largest single economy reported annual GDP growth of 4.1% for April to June.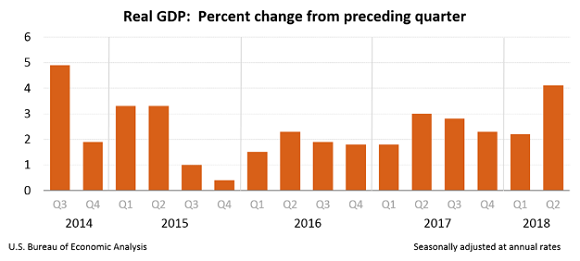 The Dollar slipped following Friday's GDP news but held near 1-week highs against the single Euro currency after the European Central Bank yesterday failed to give any new details about when it may look to start raising interest rates, currently negative for commercial lenders holding deposits with the ECB in Frankfurt.
Stock markets rose everywhere except China, where
the CSI 300 index
slipped to cut the week's earlier 2.5% gain by two-thirds.
The Yuan last night rallied following rumors that state-owned Chinese banks were buying the currency with Dollars, only to fall to new 13-month lows in late Asian trade.
Fixing before the Yuan fell back, benchmark Shanghai gold prices ended the week at a premium of nearly $10 per ounce over London quotes – the strongest incentive for new imports into the metal's No.1 consumer market since mid-May, and nearly 3 times this week's previous average.
Mainland China's gold imports through Hong Kong
jumped over 40% last month
from June 2017 to reach their highest level – net of exports – in 15 months.
China's central bank may also be adding to its gold bullion reserves – now officially the 6th largest national hoard, pushed below Russia by Moscow's consistent additions – reckons specialist analyst Philip Klapwijk of consultancy Precious Metals Insights in Hong Kong.
After starting and then stopping monthly reports of additional gold reserves in 2015, China
"probably" finds a "strategic imperative
to add some gold to reserves quietly bit by bit," he tells Bloomberg.
Retreating to levels seen a decade ago,
the Yuan is now "fairly valued"
against the Dollar, said the International Monetary Fund in a new report today, adding that China is "one of the main beneficiaries of the global trading system[ and so] has a strategic interest in playing a leading role in defending it.
"[That] means accelerating China's opening-up, maintaining progress in reducing the current account surplus, and continuing to seek to
resolve trade disputes
" – now led by US President Trump's concerted attack on Chinese imports of goods.
After the European Commission's Jean-Claude
Juncker this week "ran circles" around Trump
in a meeting to discuss US trade tariffs on EU goods, the UK Government was told yesterday to "[stop] wasting their time" trying to convince individual EU states to accept London's proposed Brexit deal. 
UK Prime Minister Theresa May nevertheless flew to Vienna on Friday to meet the leaders of Austria and then the Czech Republic – EU member states where anti-EU parties have been gaining in recent polls.
Versus the Dollar, silver and
platinum prices
also fell with gold overnight, erasing the week's prior 1.0% and 2.2% gains respectively.