GOLD PRICES held dead-flat for this week so far against the Dollar, Euro and Sterling in London trade on Tuesday, treading water as the US stock markets paused at an 11-week high.
After US President Trump lambasted Opec for squeezing energy prices higher, Washington
"has quietly asked" the cartel
of oil-producing nations to raise their output by 1 million barrels a day, reports Bloomberg.
European benchmark Brent crude has now fallen $5 per barrel from late-May's 3.5-year highs.
In base metals, "Copper has breached below the ascending channel that was in force since 2016 trough," says a new technical analysis from French investment and bullion market-making bank Societe Generale, and "zinc has [also] proved unable so far to reclaim the 2-year up channel."
The Dollar gold price has meantime also now "probed support of the [up-]trend since December 2016 at $1282," says SocGen.
"This remains a key…If [it] gives way, gold will extend the decline."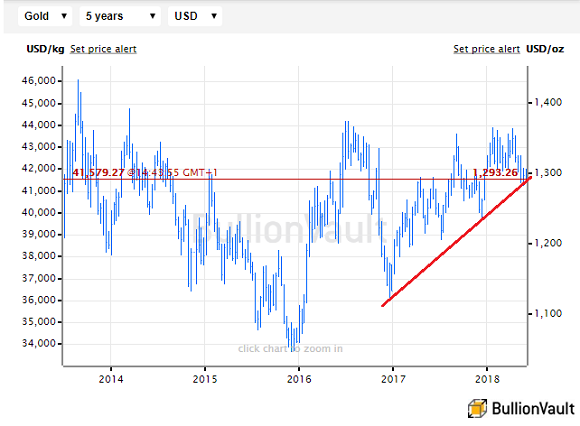 "We should see broad support toward $1289-1291," reckons a note from Swiss refining and finance group MKS Pamp, "[but that is] now looking more vulnerable."
Above current levels, MKS's trading desk says, "It is currently difficult to see a catalyst for a retest of $1300 [after] strong rejection on Monday."
With gold priced in the Dollar holding at $1293 per ounce on Tuesday, Euro and Sterling prices held at €1109 and £967 respectively.
At the UK's petrol pumps last month, gasoline and diesel prices
jumped at a record pace
according to the RAC insurance and breakdown service.
Italy's borrowing costs meantime rose to a 4-session high above comparable German Bund yields as new prime minister Giuseppe
Conte today vowed in his maiden speech
to lawmakers to end "austerity" in government spending, cut the country's share of illegal migrants to Europe, and review Western sanctions against Russia.
Over in Turkey, the world's fifth largest gold consumer nation, President Recep Tayyip Erdoğan today told a rally of supporters that foreign powers are trying to "manipulate" the country's economy by "playing on currencies,"
vowing to "settle the score"
with them after the June 24 snap elections, according to the
Hurriyet
newspaper.