GOLD PRICE in US Dollars rose to $1261 per ounce on Tuesday morning as the US Dollar weakens and Asian & European share prices advance while crude oil price is edging back, writes Atsuko Whitehouse at BullionVault.
The Dollar index, which measures the U.S. dollar's value relative to a basket of currencies, is down 0.25% to 97.64 after recording 7 months high yesterday.
Asian stocks finished up at the end of today's trading; Nikkei 225 up 0.38%, Hang Seng up 1.52% & Shanghai Composite up 1.40%.
European stocks were also higher this Tuesday lunchtime; FTSE up 0.89%, DAX up 1.10% and CAC up 1.11%.
Crude oil prices made minor gains on Tuesday following an overnight decline, December Brent crude on London's ICE Futures exchange rose 0.8%, to $51.92 a barrel.
Holdings of SPDR Gold Trust, the world's largest gold-backed exchange-traded fund (ETF), rose for a third straight session on Monday. They grew 0.18 percent at 967.21 tonnes.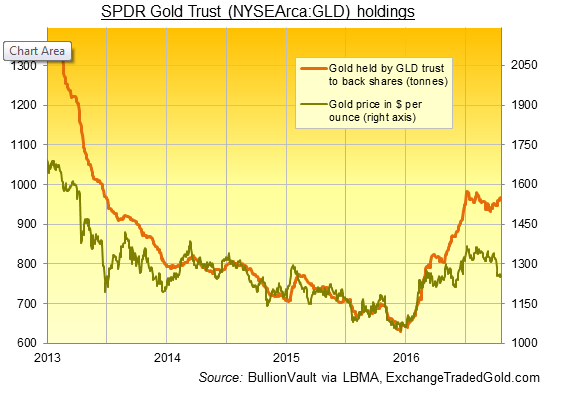 Yesterday, Commerzbank reported on its
Commodities Daily
, the CFTC statistics on the positioning of speculative market participants showed that, in the last two reporting weeks, net long positions were decimated by around 42%, the most pronounced position reduction in a two week period since the data series began ten years ago.
It went on to say 'We believe that this will ease the selling pressure from this side, however. What is more, because we assume that gold demand will pick up in Asia in the coming months, we expect the gold price to stabilise and then recover.'
On China's gold demand, Roland Wang, managing director for China at the World Gold Council (WGC), told
Reuters
yesterday "We believe we (China) may keep a certain level of about 900-1,000 tonnes of annual consumption (in 2017), but it may face some challenges especially on the jewellery side and also it depends on the price and China's own economic situation," on the fringes of an industry conference in Singapore.
Wang also said jewellery traders were seeing "more demand for gold bars since late September" with investors seeking alternate investment options amid China's housing market curbs.
London Bullion Market Association (LBMA) delegates gather on the last day of its annual conference in Singapore today. Delegates at the conference have forecasted that the average gold price in 12-months time will be $1347.40 per ounce, a 7% rise from today while silver is expected to hit $20.90, nearly a 12% rise. The last year's forecast at the LBMA conference in Vienna was $1159.88 for gold.