GOLD PRICES rallied $7 per ounce touch $1258 in London trade Tuesday morning, nearing yesterday's new 1-month high as world stock markets also held flat but the Dollar retreated again as pundits and analysts continued to talk of the 'Trump trade' having ended.
Friday's failure to repeal Obamacare "sends investors a cautionary message about opposing factions within the GOP caucus," says one bank in a note.
"Sudden shift in sentiment," says another.
Trading deadflat
from this time last month
, gold prices yesterday "found resistance at 1259.70 – the 200-day Moving Average," says a technical analysis from bullion clearing and market-making bank Scotia Mocatta's New York office.
"Support remains unchanged at 1237.70…Momentum indicators
are bullish
and gold appears poised to target the previous month's high [at] 1264.20."
"Gold is flirting with the earlier advocated resistance of $1259/1264, the 200-day Moving Average and last February high," agrees a technical note from French investment bank Societe Generale.
Above there, gold prices could see "an extended recovery…more importantly towards $1307/15, the
trend line resistance in place
since the all-time high in 2011."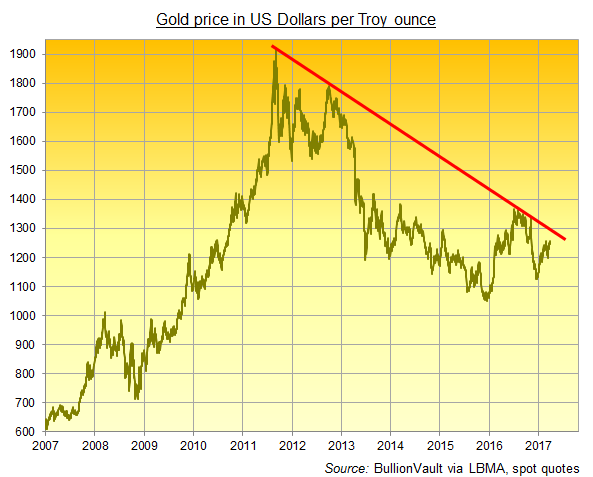 Gold prices outside the Dollar held lower for March to date meantime, as the US currency fell again on Tuesday to give back all of its post-Trump election-victory gains versus both the Euro and Sterling.
The giant SPDR Gold Trust (NYSEArca:GLD) yesterday expanded by 2.7 tonnes as new shares were created, taking its total backing to 835 tonnes – the largest size since immediately after the Fed's mid-March interest rate rise.
Monday's growth in the GLD marked only the 19th daily addition in 94 trading days since Donald Trump's victory in November's US presidential election – less than half the prior frequency of 2016.
"We
probably got ahead
of ourselves," says the Chicago Fed's voting policy maker Charles Evans of the central bank's last 2016 forecast for the impact of Trump's fiscal plans on this year's growth and inflation.
"This last [forecast] in March, we moved much more of [the impact] to 2018," Evans told Bloomberg on Monday.
"[So] you don't want to just slam on the brakes [of monetary stimulus]. You want to ease off of the accelerator first."
Silver meantime rallied with gold prices Tuesday but held 1.1% lower from this time last month at $18.12 per ounce.
Platinum prices traded unchanged
for the week so far at $968 per ounce, some 1.6% below yesterday's pop to 3-week highs and nearly 6.3% lower from the end of February.