GOLD PRICES bounced late-Friday to end the week unchanged per ounce after the United States reported the strongest jobs growth in 19 months.
Rallying to $1323 as London trade ended, the gold price had earlier slipped to 7-session lows at $1314 after Donald Trump became the first US president to announce a meeting with the leader of Stalinist dictatorship North Korea.
The Bureau of Labor Statistics'
first estimate
 then said US payrolls expanded by 313,000 last month, the largest jump since July 2016.
The number of people seeking working also grew, rising to 63.0% – a three-decade low when first reached in late 2013 – and holding the unemployment rate at 4.1%. 
Gold priced in Dollars briefly spiked on the news before retreating to $1316, down some 0.5% for the week, only to regain that drop as silver prices also rallied above last Friday's closing level, trading at $16.60 per ounce.
World stock markets were also little changed overall, together with major bond yields and commodity prices.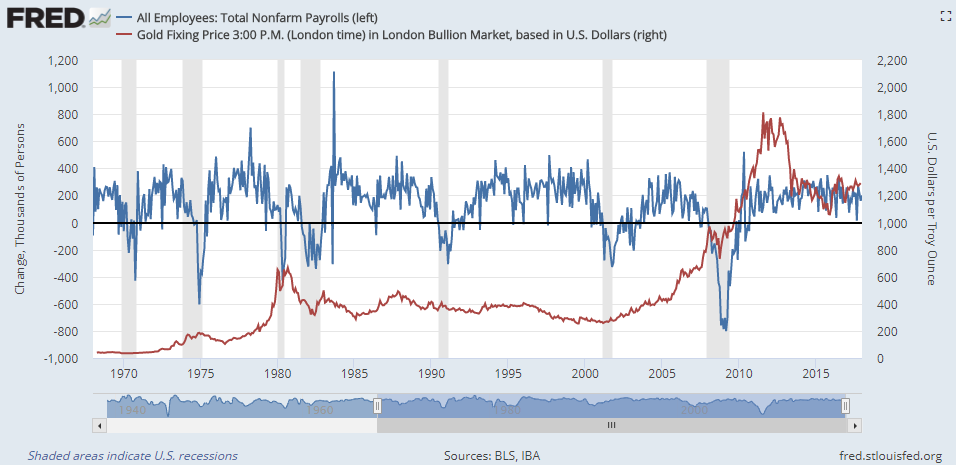 The metal had already slipped overnight after South Korea's national security advisor, having briefed the US President at the White House, told reporters that
Trump has accepted an invitation to visit North Korea
and meet with dictator Kim Jong-un, to discuss the pariah state's nuclear weapons program.
"Kim Jong Un talked about denuclearization with the South Korean Representatives, not just a freeze," 
Trump tweeted
. "Great progress…but sanctions will remain until an agreement is reached. Meeting being planned!"
"It would be a pleasant surprise if
the Dotard-Rocket Man meeting
achieves more than a meeting for a meeting's sake," says a column at the
Korea Times
.
"If history is any guide, on the heels of every positive development, there are always disturbances to
dash the hope of a smooth path
toward a peaceful solution," says China's official news agency Xinhua.
"[Gold] selling began to very gradually pick up steam following the headline," says today's Asian trading note from Swiss refiners MKS Pamp.
The Bank of Japan meantime left its QE and negative interest-rate policies unchanged at Friday's meeting, but Haruhiko Kuroda – now appointed for a second 5-year term as BoJ chief – warned against the US steel and aluminum tariffs signed into law by President Trump yesterday, echoing criticism from European Central Bank chief Mario Draghi.
"Protectionist policies have
negative implications
," said Kuroda today, "such as preventing imports needed for your own country."
China's longstanding central-bank chief Zhou Xiaochuan – set to stand down after 17 years later this month – meantime said Friday that the world's No.2 economy "is
likely to reduce reliance
" on monetary stimulus to support economic growth, aiming to cut the country's rising debt leverage.
The PBoC will also "look for opportunities to advance the progress" in financial deregulation and reform, Zhou told a press conference at this week's first annual session of the 13th National People's Congress in Beijing, opening up to foreign investment and banks which meet its entry and compliance rules.
Money-market
rates eased lower in China this week
, Reuters reports, as the People's Bank injected liquidity to dampen any financial volatility during the annual meeting of parliament.
China's consumer-price inflation beat expectations for February at 2.9% per year, the fastest pace since late 2013, new figures said this morning.
"Gold [last week] staged the expected down move towards graphical levels of $1308/1300," says a technical analysis from London bullion market makers Societe Generale, where the metal's 100-day moving average also coincides with "the 50% retracement" from December's low to February's high.
"[This] pullback should find immediate support at $1317/1312," SocGen adds, saying that "$1308/1300 remains an important support."