GOLD PRICES were little changed on Monday morning in London, holding onto last week's 2.1% drop as the US Dollar rallied and geopolitical tensions rose over North Korea's latest missile test, writes Steffen Grosshauser at BullionVault.
Asian stock markets were mixed, closing the day flat overall, after
North Korea fired four ballistic missiles
into the Sea of Japan in what Japanese prime minister Shinzo Abe called a "new stage of threat" from the poverty-stricken, closed-economy dictatorship.
Shanghai gold prices extended their premium over London quotes to $14 per ounce – well over 5 times the typical incentive to new imports – on solid trading volumes.
European trade saw Germany's Dax share index
near its record high of April 2015
– jumping some 33% over the last 12 months – but Frankfurt then dropped as Deutsche Bank shares tumbled following the bank's announcement of an overhaul including a new share issue of around $8.5 billion.
Wider Eurozone equities slipped 0.3% on average by the start of New York trading in the US, where the latest monthly jobs data will be reported on Friday and the Federal Reserve will then vote on Dollar interest rates next week.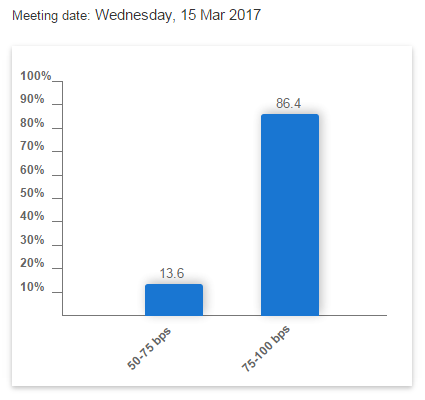 "There is still plenty of critical uncertainty supporting safe-haven buying and the news out of North Korea certainly has seen that side of the market quite active again," says Australia and New Zealand Bank Group (ANZ) commodity strategist Daniel Hynes.
"We are fairly neutral on the outlook for gold this week. Unless we see any unexpected commentary around that this week, [an interest rate hike] is pretty much built into the price now."
Gold prices edged $3 lower to $1231 per ounce on Monday morning, but held above Friday's new 3-week low of $1222, while the US Dollar slightly recovered from its own two-session losses at the end of last week.
"North Korea is unpredictable, but it fairly frequently conducts missile tests," said Kaneo Ogino, director at foreign exchange research firm Global-Info Co in Tokyo.
"One difference now is that it is also hard to predict how President Trump will respond to such tests."
Over in India – the world's No.2 gold consumer nation behind China – bullion
imports jumped by more than 80%
year-on-year in February, according to precious-metals specialists Thomson Reuters GFMS, as household demand returns for spring's key Hindu wedding season.