GOLD PRICES in London's wholesale market recovered $5 per ounce from an overnight drop below $1220 on Tuesday, rallying from that 8-week low as North Korea marked US Independence Day by announcing the successful test of an intercontinental ballistic missile.
The isolated regime of Communist
founder Kim Il-sung
's grandson said dictator Kim Jong-un personally supervised the launch, with
state newsreader Ri Chun-hee saying
the "landmark" Hwasong-14 missile confirms North Korea as "a strong nuclear state which [will] proudly protect peace and security…in the region."
The US Dollar pushed the Euro 1 cent down from the single currency's new 14-month high above $1.14 hit late Monday.
That helped gold priced in Euros hold above the March 2016 low of €1078 per ounce hit Monday.
China's benchmark gold price however fell Tuesday, fixing in Shanghai below ¥270 per gram for the first time since start-February.
South Korea and Singapore government bonds also fell in price, bucking a rally in other Asian and European debt which pulled yields lower from their recent multi-month highs.
With US markets shutting for the Fourth of July holiday, 10-year US Treasury yields yesterday closed at 2.35%, their highest level since early May.
Jumping more than one-fifth of a percentage point over the last week, 10-year T-bond yields have made the fastest weekly rise in borrowing costs since Donald Trump won the US presidential election last November.
Gold prices then lost $55 per ounce. The metal has dropped $15 since the start of last week.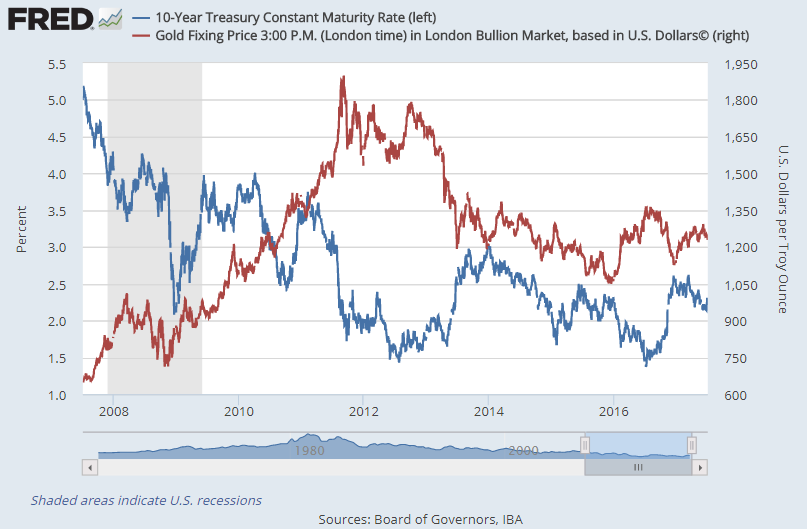 "Does this guy have anything better to do with his life?" asked US President Donald Trump of North Korea's Kim Jong-un
on Twitter today
.
Ahead of this week's G20 summit in Hamburg, "Hard to believe that South Korea and Japan will put up with this much longer," Trump added.
"Perhaps China will put a heavy move on North Korea and end this nonsense
once and for all!
"
While N.Korea may not yet have the technology to put a nuclear warhead on the ICBM,
its range could reach
Singapore, Alaska, Australia or Moscow according to analysts cited by AFP.
Hong Kong's Hang Seng stock index lost 1.5% today while mainland China's key share index fell 0.8% but Japan's lost only 0.3%.
Agricultural commodities rose sharply, but energy prices fell back.
"We have a view that real rates go sideways. So the pickup in nominal rates will be equally matched by the pickup in inflation," said Swiss investment and bullion bank UBS Asian commodities and foreign exchange director Wayne Gordon to Bloomberg today.
So while "we're
not saying we have a bullish bias
[on gold prices]," he went on, "we're saying that tactically, people should be buying [gold] somewhere near $1200 and selling it again somewhere near $1300."
Press reports from India – world No.2 gold buying nation behind China – meantime said today that
consumer interest has halved
and more since the weekend's introduction of 3% GST sales tax on bullion, with an extra 18% charge on jewelry fabrication costs.
"The GST rate has increased the incentive to bring in smuggled gold,"
Reuters quotes
one Mumbai jeweler.
"The government should reduce import duty and make smuggling unviable."