GOLD PRICES rose further Thursday in London, gaining almost 3% in Dollar terms since the Federal Reserve raised US interest rates as expected yesterday, and also raised its forecast for interest-rate hikes ahead.
Continuing to re-invest the central bank's $4 trillion QE holdings of US Treasury bonds as they mature, the Fed's Open Market Committee now sees its key rate ending 2017 no lower than 1.4% versus 1.1% at the December meeting.
"Inflation has increased in recent quarters," said Fed chair Janet Yellen, announcing the clearly-telegraphed
rise in rates
to a ceiling of 1.00%.
With the Dollar falling again on the FX market this morning, Asian and European stock markets also followed Wall Street's strong gains after the Fed announcement, driving the MSCI World Index to new all-time highs.
Major government bond prices retreated, pushing yields higher, while
commodities rallied 0.4%
from the last 6 week's 7% drop.
Silver hit 4.3% post-Fed gains before falling back 15 cents from $17.56 ounce.
Prices to
buy physical platinum
in London's wholesale market gained 4.4% from Wednesday's 10-week lows, peaking at $973 before easing back $13 per ounce.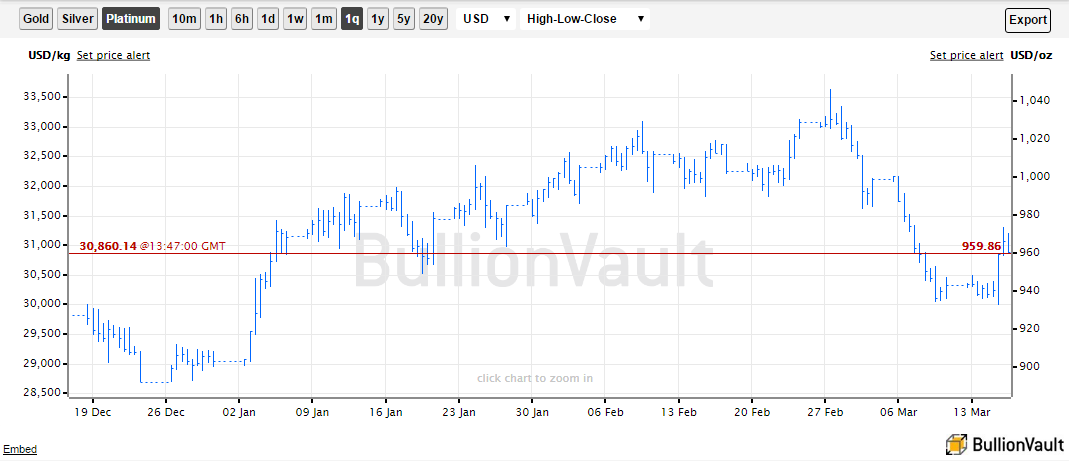 The single-currency Euro meantime held its 1-cent jump versus the Dollar, trading at 5-week highs above $1.07 following the Fed announcement.
Results from yesterday's general election in the Netherlands showed the anti-Euro Freedom Party
moving from 3rd to 2nd place
, pulling 13% of the vote against 21% for the incumbent Liberal Party – itself down by one fifth, but now set to form a coalition with other groups, including the GreenLeft party, which quadrupled its number of seats.
Euro gold prices today spiked to 1-week highs above €1150, reversing one-third of the last fortnight's 5.6% drop from gold's highest level in 5 months against the 19-nation currency.
Gold priced in Sterling meantime rose briefly above £1000 per ounce , some 1.1% higher for the week so far, as the Queen gave royal assent to the Brexit Bill passed this week by Parliament.
The bill enables the Conservative Government of Theresa May – who said last April she would vote against Brexit in the UK referendum, warning it might prove
"fatal to Union with Scotland"
– to trigger Article 50 of the Lisbon Treaty and formally begin exiting the European Union.
May today repeated that a second Scottish independence referendum, now demanded by SNP leader Nicola Sturgeon,
will not happen
before the UK's 2019 EU exit
The Pound then rallied, knocking gold £5 lower, on news that today's "no change" decision on UK interest rates by the Bank of England was not unanimous.
Kristin Forbes, a US economics professor sitting as an external member,
voted for a hike back to 0.50%
, an all-time low before the 300-year old Bank cut its key rate in half last August following the Brexit referendum result.
Forbes and the rest of the Bank of England's MPC did all vote however to maintain its £435 billion QE holdings of British government debt, plus up to £10bn of investment-grade corporate bonds.