GOLD PRICES held tight against the Dollar yet again on Thursday, trading unchanged for the week so far at $1292 per ounce as politics again dominated the headlines in Europe.
The US currency edged higher after
new data showed a drop
in claims for weekly jobless benefits in the world's largest economy, but applications are growing from government workers missing payment in the ongoing shutdown of some federal agencies over Washington's failure to agree a budget.
Asian stock markets closed the day higher but
European stock markets fell
for the 5th time in 12 sessions so far in 2019 as British Prime Minister Theresa
May met with other UK lawmakers
to discuss "finding a way forward" after the Brexit withdrawal agreement she negotiated with the European Union was rejected out of hand by the British Parliament.
Opposition Labour Party leader Jeremy Corbyn refused to attend, calling instead for a General Election after failing to defeat May's Conservative Government with a confidence last night.
Euro gold prices held firmer, coming within 25 cents of early January's 19-month peak above €1136 as the single currency edged back on the FX market.
With Brexit now 10 weeks away, France's Prime Minister Édouard Philippe said on Thursday he has
ordered contingency planning
to prepare for a so-called 'hard' or 'no deal' Brexit on 29 March, including €50 million of assistance for ports and airports.
Gold priced in the Dollar has so far in 2019 moved barely 1.1% top-to-bottom at London's twice-daily benchmarking auction.
The tightest 3-week range since June last year, that's approaching the flattest action in gold since Spring 2005 – just before the metal rose 75% over the following 12 months – and before that late-2000, when gold prices began a decade-long rise from multi-year lows.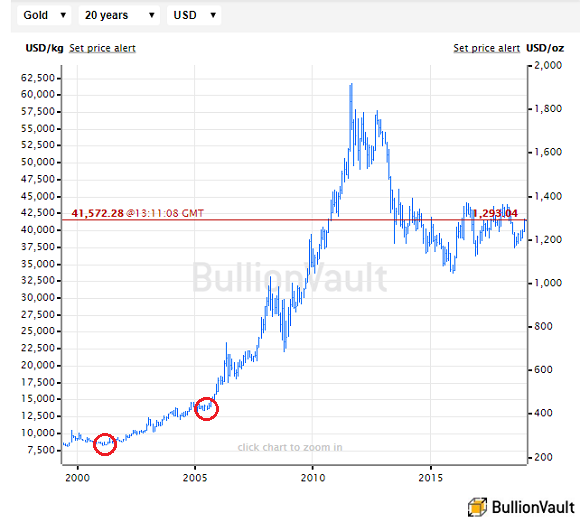 "[After] gold remained range-bound yesterday in what was a fairly dull day of trade,"
says a trading note
from Swiss refining and finance group MKS Pamp, "gold jumped up when Shanghai opened [today] but once again we saw decent [miner] producer offers [to sell] which capped any further rise."
Betting that the US central bank will keep its key interest rate on hold until at least February 2020 meantime grew again overnight, reaching 66% of all speculative contracts from below 40% this time last month
according to data
from the CME futures exchange.
"It might be
a good time to pause
our interest rate normalization, study the incoming evidence and data, and verify our current location," said Kansas Federal Reserve Bank President Esther George in a speech Tuesday, repeating
the Fed's new "patience"
stressed at New Year by chairman Jerome Powell and again last week by a raft of other Fed officials.
"There is no room for complacency," said Mario Draghi, President of the European Central Bank, on Wednesday when presenting the ECB's Annual Report to the European Parliament in Strasbourg.
After UK inflation showed an uptick in the 'core' cost of living for December – rising by 1.9% per year on official data – Eurozone data today showed no change at 1.0% across the 19-nation single currency union.
"Recent economic developments have been weaker than expected," the ECB's Draghi went on Wednesday, "and the uncertainties, in particular relative to global factors, remain high."
France's "gilets jaunes" are
now preparing 'Act X'
according to posts on Facebook and other social media, arranging a 10th weekend of protests in Paris despite President Macron beginning what he called a series of
"big debates"
this week with local politicians from across the Republic to try and address the movement's concerns.
"It's useless," says one protester. "Everyone knows what the people are asking! Fewer elected officials, fewer privileges, more transparency, that the people are consulted systematically in case of disagreement!"
Meantime in Rome, where the right-wing Lega members of Italy's ruling coalition have
reportedly invited the far-right Brothers of Italy
party to join the Government, the finance ministry has begun detailing the 7 new types of state pension available after agreeing Rome's 2019 budget deficit spending plans with the European Union in Brussels.
"We need to change this government," said media tycoon, convicted tax-fraudster and 4-time Italian prime minister
Silvio Berlusconi on Thursday
, lambasting the left-wing M5s part of today's ruling coalition while announcing his candidacy in May's forthcoming European Parliament elections.