GOLD PRICES touched a 3-week high of $1210 per ounce in London trade Thursday as global stock markets fell yet again and the US Dollar retreated once more on the currency market.
Commodities also fell, with crude oil dropping to new lows for this month at $81 per barrel of Brent but silver edging up with gold prices to touch $14.50 per ounce.
Government bond prices stabilized but held longer-term interest rates near multi-month and multi-year highs on German and US debt respectively.
"Rising bond yields
aren't always a problem
for stocks," says Jeffrey Kleintop, chief global investment strategist at global brokerage Charles Schwab.
"But when bond yields and stock prices moved in different directions it has been a sign of trouble."
Tokyo shares today lost 3.5%, Hong Kong 2.5% and Shanghai 4.8% after New York stock markets closed last night with their worst 1-day drop since February.
As Wall Street's S&P500 index of US corporations fell for the 11th time in the last 15 sessions yesterday, the largest and most expensive gold-backed ETF – the SPDR Gold Trust (NYSEArca: GLD) – grew in size as more investors bought the stock than sold it for the first time in 58 trading days, the longest such run since the GLD was launched in November 2004.
That took the quantity of gold needed to back the GLD's shares up to 739 tonnes, some 1.2% above this week's 32-month low.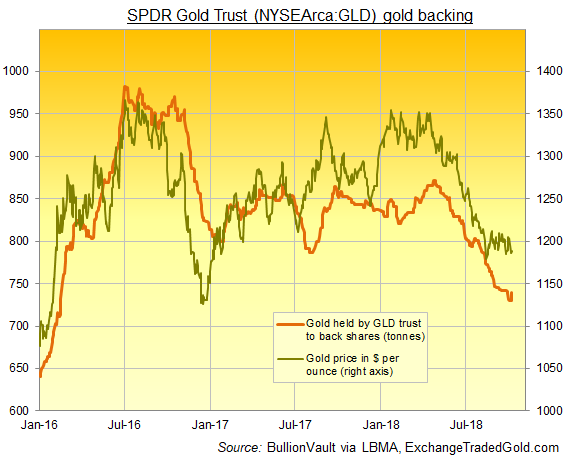 The cheaper Gold Minishares (NYSEArca: GLDM) – launched by asset managers and SPDR marketing agents
State Street in June
, and undercutting their larger fund's 0.40% annual charge with a fee of 0.18% – didn't change in size on Wednesday, needing 6.1 tonnes of backing.
Nor did the Graniteshares Gold Trust (NYSEArca:BAR) – now the
cheapest such product once more
after trimming its annual charge to 0.175 percentage points this week – needing 7.3 tonnes to back the value of its shares.
Annual storage rates for physical gold bullion owned outright, with insurance included, run
as low as 0.12% on BullionVault
, which now cares for 38.9 tonnes of customer property in each client's choice of London, New York, Singapore, Toronto or Zurich.
"Actually,
it's a correction
that we've been waiting for, for a long time," Donald Trump said of the Wall Street slump late Wednesday, after
repeatedly taking credit
for the US stockmarket's run of new all-time record highs in 2017 and 2018.
"But I really disagree with what the Fed is doing, okay?" the President added to reporters, doubling down on comments he
made in July
about the US central bank raising its key Dollar interest rate.
"I think the Fed is making a mistake. They're so tight. I think the Fed has gone crazy."
"The fundamentals of the US economy
continue to be extremely strong
," added Trump's Treasury Secretary Steve Mnuchin to Bloomberg overnight, calling the plunge "somewhat of a correction".
First-time claims for US unemployment benefits last week jumped above analyst forecasts, new data said today, but still held near the
lowest level since 1969
.
The latest US inflation figures
also missed analyst forecasts
however, with 'core' consumer prices slowing to 2.2% annual inflation on today's release of September data.
"The situation is very fragile," said European Commission vice president Jyrki Katainen meantime of the worsening row over Italy's budget deficit plans, warning that other Eurozone member staes "may suffer from contagion risks" as the price of Italy's government debt falls, driving Rome's borrowing costs higher.
"Our interest," Katainen said Thursday, "is to get a result which is credible and try to convince the Italian government to take the responsibility, which lies in their hands."
Looking at Italy's 10-year yield spread over German Bunds, "The spread was 270-280 [basis points], now it's 300, because there is great prejudice about this government," Rome's deputy prime minister Luigi Di Maio of the anti-establishment M5s Party said overnight,
echoing comments
from his coalition partner Matteo Salvini of the rightwing Lega.
"My aim is to make my fellow citizens happy."
European shares extended their losses on Thursday, dropping another 1.1% on the Euro Stoxx 50 index and taking London's FTSE100 3.7% down for the week so far.
Gold priced in the Euro today rose back above last week's closing level of €1043 per ounce.