GOLD PRICES edged higher against a falling US Dollar Monday lunchtime in London as Western stock markets fell again ahead of key policy events in China and US and hedge funds showed their first net bullish positions in Comex gold futures and options since July, writes Atsuko Whitehouse at BullionVault. 
Recovering from an earlier slip, gold prices edged above $1241 per ounce as New York prepared to open and the Dollar Index (DXY) – gauging the US currency's value versus six major peers – declined from the 19-month high hit on Friday.
Gold prices for European investors pulled bacl to €1093 per ounce while
the UK gold price in Pounds per ounce
fell to £982 after Prime Minister Theresa May launched a stinging attack on former PM Tony Blair, branding his efforts to bring about a second referendum on next March's Brexit
an "insult to the office
he once held".
May is scheduled to update lawmakers tomorrow on her latest summit with European Union leaders, where she argued with European Commission President Jean-Claude Juncker after he described her demands as "nebulous and imprecise".
Latest data meantime say that hedge funds and other money managers last week switched to a net long position in Comex gold futures and options after being net short for 21 weeks – the longest such period since
US regulator the CFTC
started reporting in this format in June 2006.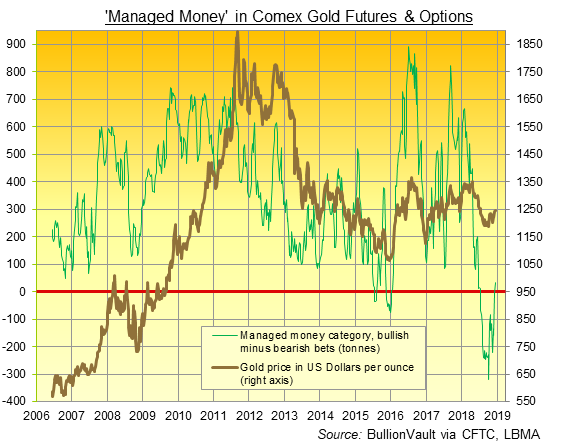 "China looks softer. Europe looks softer. Brexit looks a bigger risk…[The Fed] are taking that on board."
The Federal Open Market Committee (FOMC) meets tomorrow and Wednesday, widely expected to raise interest rates. However, the focus will be on the outlook for 2019.
"Any content that speaks to the difference between market pricing of one interest rate rise in 2019 versus previous Fed indications of three rises is very likely to move markets," says Michael McCarthy, Sydney-based chief markets strategist at spreadbetting brokers CMC Markets.
President of the European Central Bank Mario Draghi told European Union leaders on Friday that there is "continuing confidence with increasing caution.
The White House and a number of federal agencies have meantime started advanced
preparations for a partial government shutdown
, a report said Sunday, because the White House and congressional Democrats appear unlikely to resolve their fight over President Trump's border wall before some government funding lapses at week's end.
US Interior Secretary Ryan Zinke will now leave at the end of the year amid a swirl of federal investigations.
Investors are also looking to a major speech due from China's President Xi Jinping on Tuesday to mark the 40th anniversary of the country's policy of economic reforms and "opening up".
China is also expected to hold its annual Central Economic Work Conference later this week, where key growth targets and policy goals for 2019 will be discussed.