GOLD PRICE gains of 0.9% overnight evaporated against a rising US Dollar in London on Wednesday ahead of the Federal Reserve's latest policy decision, widely-expected to leave interest rates and QE unchanged.
Gold popped to 1-week highs at $1280 per ounce in Asian trade overnight as the Caixin PMI survey said Chinese manufacturing activity held near stall-speed in October.
Bullion prices then retreated to stand unchanged for the week so far at $1273 as European stock markets followed Wall Street higher towards fresh all-time records, and private-sector US data put October's
jobs growth well ahead
of analyst forecasts.
Ex-Catalan governor Carles Puigdemont refuses to attend tomorrow's court hearing in Spain over charges of rebellion,
his lawyer said Wednesday
, but will answer questions instead from Belgium where he has fled.
"Tensions in Catalonia have not attracted safe haven flows to gold," says a note from Swiss bank and London bullion market-maker UBS, "which is in line with the limited impact on other markets as well."
"Gold [also] seems to be
seeing little benefit
from safety flows on the back of Special Counsel Robert Mueller's investigation," says refining and finance group MKS Pamp of alleged Russian government links to Donald Trump's 2016 election campaign.
Despite last month's unofficial Catalan referendum and declaration of independence, the gold price in Euros added only 0.4% in October, edging 5 Euros higher per ounce today to EUR1096 per ounce.
New York's S&P500 index of stocks in contrast rose 2.2%, its 11th monthly gain of the last year and its 7th new all-time record monthly closing high in succession.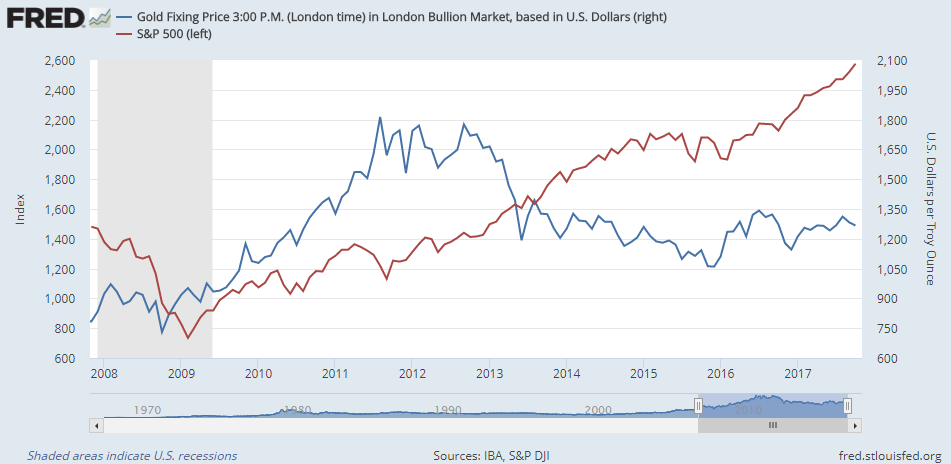 "Asian interest today was again rather muted [but] Shanghai saw a heightened premium [to global quotes for London settlement] around $9 per ounce" – back in line with the historical average.
With
only 1.5% of bets
on US interest-rate futures now expecting any change at Wednesday's US Federal Reserve decision, "All eyes will be on President Trump's nomination for the Federal Reserve Chair," MKS goes on.
"Should [existing Board member] Jerome Powell get the nod, we are likely to see near-term Dollar weakness that should underpin a move higher for bullion."
Chooing Powell "could lead to some consolidation in the Dollar [and] offer some relief to gold," agrees UBS.
"However, headwinds linger for now," it adds, pointing to this week's debate in Congress on Trump's US tax reforms plus the December Fed meeting on interest rates, now 96.7% certain to see a hike to a ceiling of 1.50% according to data from derivatives exchange the CME.