GOLD PRICES spiked against a falling Dollar in late London trade on Monday, recovering an earlier 0.5% dip as Moscow denied US claims that Russian forces have "interfered" with the site of last week's deadly chemical weapons attack in Syria, while new data said US consumers spent more than analysts expected in stores and malls last month.
US retail sales grew 0.6% in March from February, the Census Bureau said, expanding at
a 4.7% annual rate
 excluding foodstuffs – well above the last 20 years' average of 3.8%.
UK prime minister Theresa May meantimee faced questions from lawmakers after failing to consult Parliament before the weekend's joint airstrikes with US and French forces against the Syrian regime of Bashar al-Assad.
Russian foreign minister Sergei Lavrov meantime repeated his claim today that the chemical weapons attack on opposition Syrian civilians was a "staged thing…[and] Russia has not tampered with the site" since then,
as alleged today
by a US envoy to the United Nations' chemical weapons team.
Gold rose against all major currencies as New York opened for trading, but it only rose above Friday's closing level in US Dollar terms, moving above $1350 per ounce for the 13th time in the last 5 years.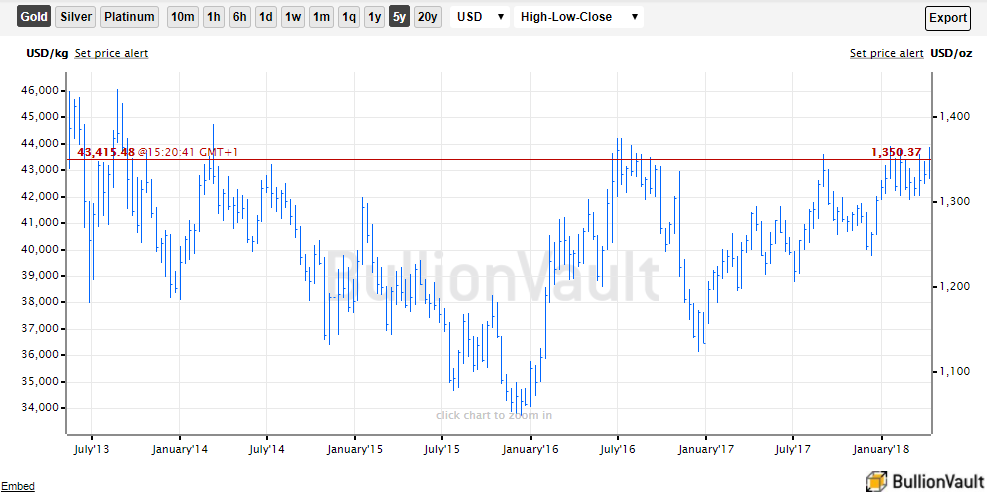 "We have certainly not heard the last about
[US-China] trade wars
," says the latest weekly analysis from strategist Jonathan Butler at Japanese conglomerate Mitsubishi, "but for now the markets could remain focused on the threats of actual wars.
"Such tensions can quickly be priced out if the situation eases…[but] just as crude oil prices have taken strength from the current geopolitical situation, rising to a 3-year high on fears of Middle East supply interruption, so too we expect precious metals to remain well supported as traditional safe havens."
Gold prices had slipped at the start of the week's trading in China overnight, finally ending the day flat in Yuan terms while the Chinese currency itself retreated from last week's rise near January's 2.5-year highs against the US Dollar.
Together that halved the premium for gold delivered in Shanghai rather than the world's central hub of London, down from a near-average level of $8 to little over $4 per ounce.
Allowing for India's 10% import duty on gold, prices in its airfreight hub of Ahmedabad meantime ended last week at a premium of 50 cents per ounce over London, reversing an earlier steep discount as wholesale demand returned ahead of this Wednesday's Akshaya Tritiya festival.
"Footfalls are
still significantly lower
than usual" thanks to high Indian Rupee prices, Reuters quotes a jeweler in the western Indian city of Pune.
"[That] is forcing industry players to give discounts on jewelry- making charges."
"Overall there is a positive sentiment in the market," claims Nitin Khandelwal, chair of the All India Gem and Jewellery Domestic Council (GJC), "so we are
hoping for 15-20% growth
in sales this Akshaya Tritiya compared to last year."