GOLD PRICES held $10 per ounce above this week's new 3-month lows in London on Thursday, trading at $1224 as Western stock markets slipped, commodities rallied and European government bond prices fell.
Gold priced in British Pounds today rose back above £950 per ounce, £10 above this week's new 3-month lows, as Sterling fell on the FX market following a downgrade to the Bank of England's economic outlook for the UK, plus
a "no change" decision
on its near-zero interest rates and £435 billion of QE.
"Aggregate demand slowed markedly in 2017 Q1," the Bank said, with weakness "concentrated in consumer-facing sectors, partly reflecting the impact of Sterling's past depreciation on household income and spending."
New UK trade data today said London's bullion vaults saw net inflows of 38 tonnes in March as average monthly gold prices holding unchanged at the highest since November.
Center of the world's wholesale bullion and 'over-the-counter' gold investing market, London's commercial bank and private logistics vaults regained 1,034 tonnes in the 15 months starting January 2016, some 42% of the previous 36 months' outflow when gold prices crashed – and Asian consumer demand leapt – between 2013 and 2015.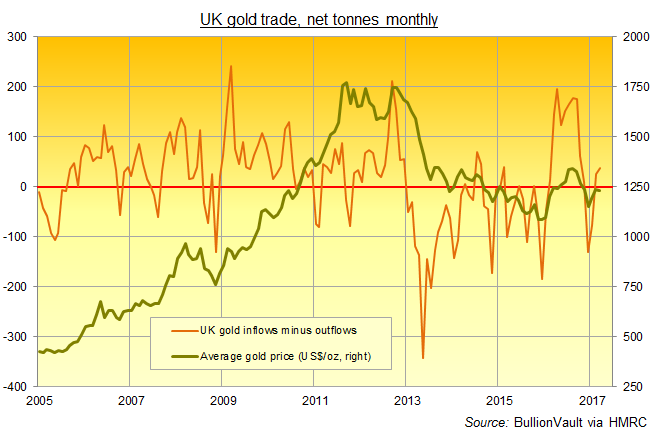 Primarily vaulting in London, gold-backed ETF trust funds
needed an extra 24.5 tonnes
of gold in April as investor interest expanded by 1% according to data compiled by mining-backed market development organization the World Gold Council.
Now holdings 2,277.5 tonnes of gold in total, the world's
gold ETFs
need 80% of the peak backing reached at end-2012, with a Dollar value down some 42% from the peak of summer 2011.
Silver today 'fixed' at $16.37 per ounce, some 15 cents above Tuesday's new 2017 low.
Spot prices in OTC trade then slid 1%, back down to that level.
LME parent company Hong Kong Exchanges and Clearing also said this week it plans to launch a new gold futures contract in 2017 in the Chinese city – "the third [such] attempt by HKEX to launch a gold product," notes the
South China Morning Post
, "after the first two launches in mid-1980s and in 2008 failed to attract much turnover."