GOLD PRICES held stable on Monday morning in London as the Dollar fell to a near 2-week low after President Trump lamented the US currency's recent strength, writes Steffen Grosshauser at BullionVault.
With Trump tweeting a blunt warning to the theocratic government of Iran, gold rallied to touch $1234 in the early session before falling back to Friday's close at $1229 per ounce, some 1.5% above the prior day's 1-year low.
To Iranian President Rouhani: NEVER, EVER THREATEN THE UNITED STATES AGAIN OR YOU WILL SUFFER CONSEQUENCES THE LIKES OF WHICH FEW THROUGHOUT HISTORY HAVE EVER SUFFERED BEFORE. WE ARE NO LONGER A COUNTRY THAT WILL STAND FOR YOUR DEMENTED WORDS OF VIOLENCE & DEATH. BE CAUTIOUS!

— Donald J. Trump (@realDonaldTrump) July 23, 2018
Gold priced in US Dollars has now dropped around 10% since it hit this year's high at $1365 in April.
"Comments over the weekend from Trump changed the environment somewhat, with the apparent push now to really weaken the US Dollar," said Australian bank ANZ's analyst Daniel Hynes.
"The current US administration has a clear preference for lower US Dollar rates
and a weaker currency
," agrees Australia & New Zealand Banking Group strategist Daniel Been.
"This will keep markets wary of further strength in the US Dollar."
Ahead of
Trump's 'weak Dollar' comments
last week however, hedge funds and other large speculative investors trading Comex gold futures and options flipped to holding more bearish than bullish contracts for the first time since January 2016, according to the latest data from US regulator the Commodity Futures Trading Commission (CFTC).
Last time the 'Managed Money' was net short Comex gold, the metal's price finally bottomed from the 2011-2015 bear market and began turning higher.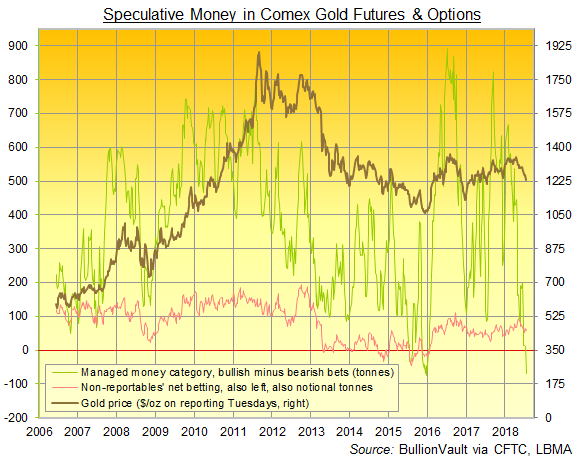 Speculative positions on Comex silver were also net short in the week ending last Tuesday, with bullish betting among the Managed Money category declining for five consecutive weeks.
Platinum positioning was net negative for the 15th week running, leaving only palladium to show a net bullish position among speculators on
the CFTC data
.
Silver today steadied with gold prices around last week's finish, slipping 8 cents to $15.43 per ounce.
Platinum prices meantime popped and retreated 0.8% to touch $835 per ounce, unchanged from last Monday's start after plunging $20 mid-week to
set fresh 14-year lows
.
"USD optimism, trade and EM [emerging markets] angst have prompted investors to shun gold," says a note from Canadian brokerage TD Securities, "dragging net positioning…lower…as money managers hold excessive shorts and are significantly underweight.
"A weaker USD and reversal in positioning should buoy the yellow metal."
Whereas Asian stock markets closed mixed on Monday, all European markets were down, led by car stocks that were most affected by trade concerns. 
After the finance ministers and central bankers of the world's 20 biggest economies failed to reach a trade agreement in Buenos Aires over the weekend, EU President Jean-Claude Juncker is set to travel to Washington this week in an attempt to persuade the US government to refrain from tariffs on European carmakers.