GOLD PRICES leapt against a sinking Dollar on Tuesday but quickly fell back after US consumer prices showed the fastest inflation in 6 months and US President Donald Trump sacked his Secretary of State Rex Tillerson with a tweet, one day after Tillerson called Russia "a force for instability in the world."
Trump had tweeted overnight that the House Intelligence Committee "
found no evidence of collusion
or coordination" between his 2016 election campaign and the Kremlin.
"Quickest way to get fired by Trump isn't misuse of taxpayer funds, domestic violence or lying," tweeted Republican senator Joe Kennedy after today's news.
"A relatively
quiet session ahead
of the US CPI [inflation] data," said Tuesday's gold trading note from refining and finance group MKS Pamp.
"The [Shanghai] premium remains around $8," MKS said – in line with the typical incentive for new imports to China, the No.1 consumer nation – "but there has not been enough buying action to support the market in the face of a sharply rising USD/JPY."
Also rising against the Euro overnight, the Dollar rose above ¥107 in terms of Japanese Yen ahead of Tuesday's inflation data and the
latest White House sacking
– its highest level so far in March.
Versus the Dollar, gold has moved in the same direction as the Japanese Yen in 41 of the last 52 weeks.
Across the last 47 years of free floating exchange rates, that's just shy of the record 43-week co-movement seen in the 12 months to October 1984.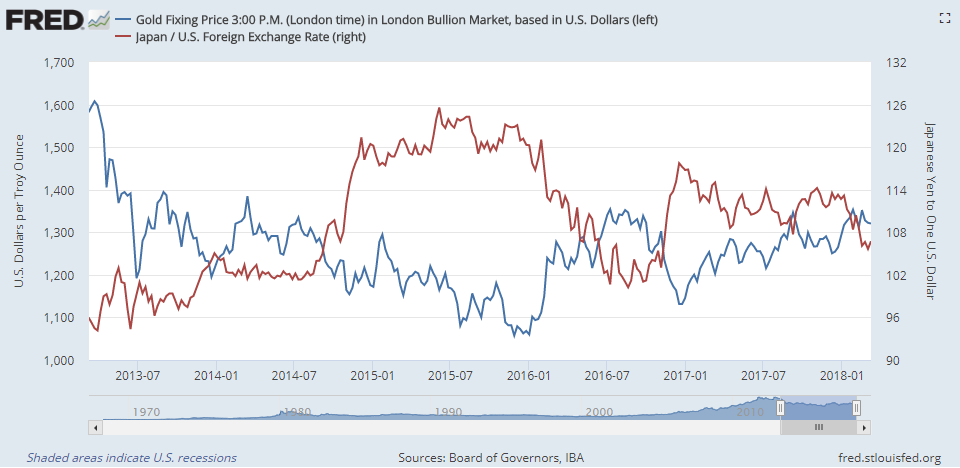 Backing the United Kingdom in blaming the Kremlin for poisoning a former Russian double-agent with a chemical weapon on UK soil, "It certainly will trigger a response" under the 'mutual defense' clause of the Nato military alliance, Tillerson told reporters Monday.
UK Prime Minister Theresa May gave Vladimir Putin
a deadline of midnight tonight
to explain how deadly novichok – believed to have been developed by Soviet military labs in the 1970s – came to poison Sergei Skripal and his daughter, still in critical condition in hospital since the attack in Salisbury on 4 March.
"The response by Russia will be considered on Wednesday," says Sky News, "when Mrs May will give a statement on the range of options available."
Gold priced in Dollars today shot nearly $10 higher per ounce to near 1-week highs at $1326 within 30 minutes of
Trump tweeting news
of Tillerson's replacement by former CIA chief Mike Pompeo.
Stripping out food and fuel, so-called "core" inflation held at 1.8%.
Betting that the US Federal Reserve
will fail to raise interest rates
as expected at its March meeting next week rose this morning to 14.0% of speculative bets, according to data from the CME derivatives exchange.
Sharply higher from last week's finish at 9.8% however, that was barely half the level of betting on "no change" seen this time last month.
Gold prices meantime fell back to $1323 in Dollar terms Wednesday, holding in line with last week's close.