GOLD PRICED in the US Dollar showed a 0.5% weekly gain as New York trading began on Friday, holding at $1293 as European stock markets slipped amid a fresh round of political turmoil.
"Up until now people have been quite rightly worried about the prospects of no deal" for the UK's March exit from the European Union, said British foreign secretary Jeremy Hunt to the BBC this morning.
Silver and
platinum prices
both held unchanged for the week at $15.70 and $822 per ounce respectively.
Palladium traded 2.3% higher at a new record high weekly finish as Bloomberg reported that "
prices still aren't high enough
" across the platinum-group metals as a whole to boost new mine output.
Euro gold prices today held around €1120 per ounce, on track for the first weekly loss in 6 after finishing last Friday at €1127.
The UK gold price in Pounds per ounce meantime sank £10 per ounce to trade unchanged for the week at £1008 as Sterling spiked to an 8-week high versus the Dollar following Hunt's comments on Brexit.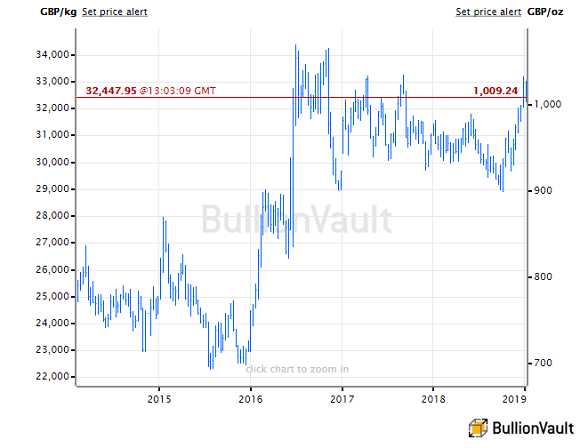 "If the [Prime Minister's] deal is not voted for [by Parliament next Tuesday]," said a spokesperson for Hunt's boss Theresa May this morning, "the
default position
is that the UK will leave without one."
But "I have totally given up. I don't think Brexit will happen at all," says online stock-broking entrepreneur Peter Hargreaves, reportedly the
second largest donor
to 2016's Brexit campaign behind insurance tycoon
Arron Banks
.
"My view is that
it ain't going to happen
," agrees UK fund manager and fellow
Brexit campaigner
Crispin Odey, also pointing to the "configuration of parliament" against leaving the EU and now building a bullish bet on the value of the Pound rising as a result.
"While the UK government has so far ruled it out," says a note from Dutch bank ING, "it
looks increasingly
likely that the 29 March Brexit date will need to be pushed back.
"The most likely way of doing this would be for the UK to apply for an extension to the two-year Article 50 negotiating period" – a move called "inevitable" by one opposition Labour Party figure on Thursday, but something already ruled impossible by the European Court of Justice, with the remaining 27 member states able to agree to cancelling the UK's exit entirely,
not delaying it
.
Defeated meantime in the UK High Court today over its key 'universal credit' welfare reforms, the UK's Conservative government is also now scrapping a cap on benefits for families with more than 2 children and delaying the start of new payment systems until 2020 for 3 million recipients.
Over in world No.1 gold consumer China, wholesale prices on Friday ended the week more than 2% lower as the Yuan rallied again versus the Dollar.
That however pushed the premium for gold delivered in Shanghai to more than $9 per ounce above London quotes – back in line with the typical incentive for new imports with less than 4 weeks until Chinese New Year, the country's heaviest gold-buying season.
Over in India in contrast gold prices today held near 5-year highs in Rupee terms, worsening the plunge in demand so far extending 2018's drop into the New Year.
Reflecting weak demand, over the last 3 years Indian gold prices have traded at a discount to London – after accounting for import duty – more than 75% of the time
according to data
from the mining industry's World Gold Council.
Over the previous 3 years, India instead saw gold trade at a premium two-thirds of the time.