GOLD PRICES slipped back towards yesterday's 1-week low of $1321 per ounce Tuesday in London even as world stockmarkets fell with commodities and the US Vix volatility index rose once again.
Gold prices rallied late Monday after US Federal Reserve governor Lael Brainard
called for further delays
to a second Fed rate hike, rather than switching from
'dove' to 'hawk'
ahead of next week's September meeting and decision.
Asian stockmarkets failed Tuesday to extend Wall Street's post-Brainard rally, and European equities reversed earlier gains as New York re-opened.
Government bond prices paused their rally after Friday and Monday's hard sell-off, capping 10-year US Treasury yields at their highest level since the UK's shock Brexit referendum result of late June at 1.67%.
"Wall Street's 'fear gauge' has jumped to the highest since late June," notes Jonathan Butler, precious metals strategist at Japanese conglomerate Mitsubishi, referring to the 'Vix' volatility index of US equity options traded on the CBOE exchange.
"[Yet] gold has failed to benefit much…perhaps indicating that despite an equity market sell-off many investors see gold as susceptible to central bank policy."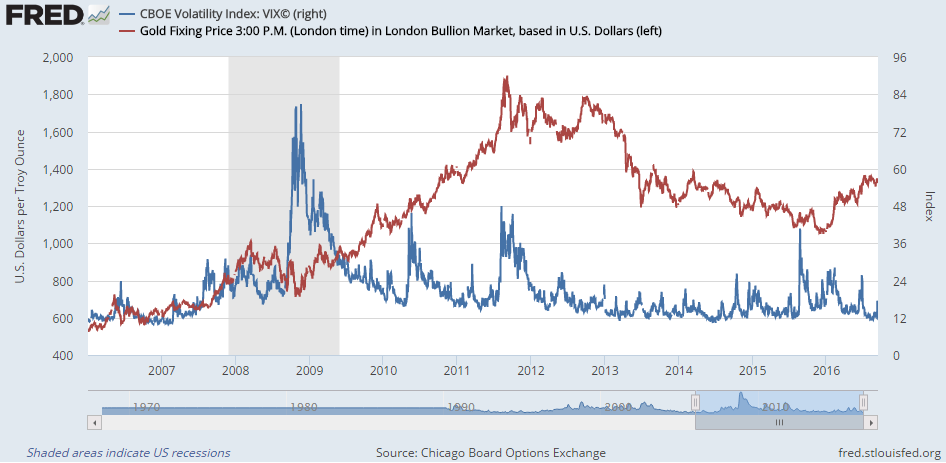 Volatility in US equities remains "unsustainably low" says finance giant Blackrock's head of asset allocation Russ Koesterich. "[So] I would be reluctant…to sell some or all of [my] holdings in the precious metal.
"Changes in the VIX Index – a measure of US equity volatility – explain nearly 20% of the variation in the relative return between gold and the S&P 500 Index," Koesterich explains, adding that on data back to 1994 "when volatility rose, gold outperformed the S&P 500 price return by roughly 2% on average."
Most notably, "Gold's value as a hedge has historically been most pronounced during those periods when you need it the most,"
Blackrock's analysis
concludes, with gold beating the S&P 500 three-quarters of the time and by an average 5% when the Vix rose from already high levels.
Gold traded 4% below its average daily price since this time in 2011.
With 10-year German Bunds meantime offering 0.02% annual yield to new buyers, the share of Eurozone government debt paying negative rates "
has fallen back below 50%
after a sell-off triggered by investor disappointment at the European Central Bank's meeting last week," says news-wire Reuters.
"That is down from 55% in early July [when] Britain's vote to leave the European Union posed a threat to global growth."
The recent sell-off in stocks and bonds marks "a
loss of confidence
in the ability of central banks…to regenerate inflation," says Harvard professor – and
advocate of banning cash
to enable more negative rates – Ken Rogoff, speaking to Bloomberg Television on Tuesday.
"It may be true that global risk sentiment remains broadly stable," says a gold investing recommendation from French bank Credit Agricole.
"[But] a large part of that stability was due to rising liquidity expectations [thanks to central bank QE and rate cuts] rather than better global growth prospects."