GOLD PRICES held a 0.5% drop for the week so far in both Dollar and Euro terms on Thursday even as the US-China trade dispute turned to "hostage taking" in the words of one specialist.
The
UK gold price in Pounds per ounce
also retreated, dropping back to last week's finish at £980 after Britain's sudden leadership crisis was resolved and Brexit discussions with the European Union recommenced.
Fresh from winning the backing of two-thirds of her Conservative Party's Members of Parliament in Wednesday's sudden vote of confidence, Prime Minister Theresa May said there will be
"no immediate breakthrough"
in renegotiating the terms of Britain's withdrawal agreement with the EU ahead of 29 March's Brexit.
But attending an emergency summit with EU leaders in Brussels, "I do hope…we can start work as quickly as possible on the assurances that are necessary" for UK lawmakers over the open-ended commitment to an
Irish border backstop
, she added.
As gold prices slipped to $1242 on Thursday Asian stock markets rose around 1% on average while the Eurostoxx 600 index extended its rally from Monday's new 20-month low to 3.2%.
Shanghai gold prices meantime held flat against a rising Yuan, widening the premium for bullion delivered inside the world's No.1 consumer market to $9.30 over comparable London quotes.
Ahead of the peak gold-buying run up to Chinese New Year – falling on 5 February 2019 – that marks only the 5th time since early-October's National Week holidays that Shanghai's incentive for new bullion imports has exceeded its historic average around $9 per ounce.
A second Canadian citizen was meantime arrested in China on Wednesday, widely seen as
a tit-for-tat response to Canada's arrest
of Chinese tech-giant Huawei executive Meng Wanzhou for extradition to the United States following this week's earlier arrest of ex-diplomat Michael Kovrig in Beijing.
"It is clear the Chinese government
wants to put maximum pressure on
the Canadian government," reckons Guy Saint-Jacques, a former Canadian ambassador to Beijing.
"The trade war between US and China remained the major event in 2018," says a 2018 gold-market review from analysts Refinitiv (formerly Thomson Reuters GFMS), "[but it] had little positive impact on gold, pushing the price down after trading substantially above $1300 in first two quarters.
"The recent truce between China and the US may drive the Dollar down and be beneficial to gold, but the current interest rate increase timetable might limit the upside."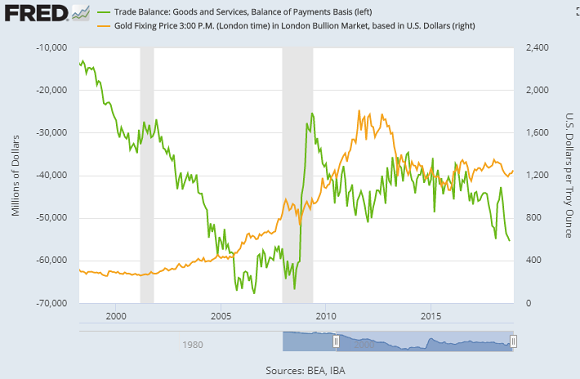 As the UK's ruling Conservative Party held its vote of confidence on Wednesday, the European Parliament approved a new "economic partnership with Japan – the
biggest trade zone ever negotiated
" according to EU Trade Commissioner Cecilia Malmstrom, and covering nearly two-thirds of global economic output.
Forecast to save EU consumers €1bn per year on lower prices for Japanese goods led by automotives, the deal sees Tokyo recognize over 200 "geographic brands" such as Roquefort cheese and Polish 'Wodka' and makes some 85% of European food and drink exports tariff-free.
"Everything is uncertain with the United Kingdom for the moment," Malmstrom added, "but one day or another we'll have to negotiate something…[and will probably] go even further" than the Japan deal.
Euro
gold prices today
held a €4 loss for the week so far at €1092 per ounce after the European Central Bank kept its key interest rates unchanged – including the deposit rate of minus 0.4% for commercial banks – and confirmed it will end new quantitative easing this month after buying €2.5 trillion of corporate and mostly government debt over the last 3 years.
"Enhancing its forward guidance" however, the
ECB added the words "in full"
to its plans for reinvesting money from maturing bonds back into new purchases of Eurozone debt, seeking to maintain "favourable liquidity [and] ample monetary accommodation…for as long as necessary."