GOLD PRICES gave back a $5 rise in US Dollar terms after recovering last week's closing level in London on Tuesday, trading down at $1244 per ounce as world stock markets rallied, government bond prices edged back, and the British Pound steadied on the FX market after Monday's latest Brexit-crisis slump.
Data released overnight showed hedge funds and other speculators slashing their bearish betting on Comex gold futures and options last week.
As a group, the so-called Managed Money category made the fastest positive jump in its positioning since those traders pulled back from a record-heavy bearish position in mid-October.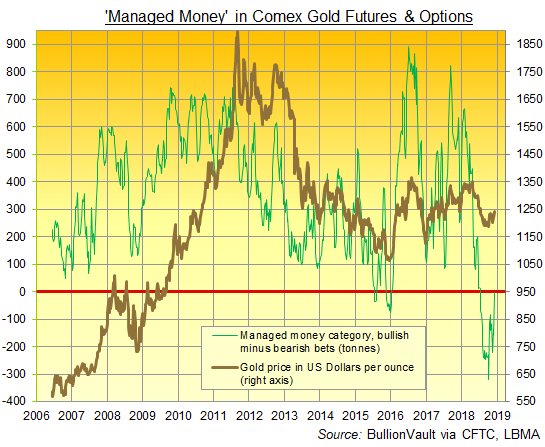 Hedge funds also slashed their bearish betting against silver last week, cutting the net negative position by 30% to a 4-week low.
Silver prices over that period rose 1.4% as gold added 0.7% in US Dollar terms.
The price of platinum in contrast continued to fall, losing 3.7% over the week-ending Tues 4 December as the Managed Money slashed what had been a net positive position very nearly to zero.
"Platinum pricing remains heavy underneath $800," says a trading
note today from MKS Pamp
, the Swiss refiners and finance group, "and it is difficult to see and drivers for a move back above the figure."
Over on the interest-rate market, speculators have meantime slashed their betting on 3 or more US Fed rate hikes by this time next year from 59.8% to just 16.1% likelihood
according to data
from the CME  futures exchange.
Next week's widely expected rate hike to a ceiling of 2.50% "will be
the last one for a long time
" reckons Paul Tudor Jones of the $4bn Tudor Investment Corp.
"Fed funds futures pricing," agrees Chinese-owned bullion bank ICBC Standard's analyst Marcus Garvey, "has been reducing the market expectations for hikes over the next 18 months and that has been
coming through in a slightly softer Dollar
and a stronger gold price."
A
Canadian ex-diplomat was meantime arrested
today in No.1 gold miner, importer and private consumer China, reportedly in a tit-for-tat response to the Toronto court hearing for extradition to the United States of tech-giant Huawei executive Meng Wanzhou.