GOLD PRICES fell at the fastest pace in 2 weeks on Monday morning in London as pro-growth centrist candidate Emmanuel Macron received the highest number of votes in the first round of France's presidential election, with world stock markets jumping amid a sell-off in 'safe haven' government bonds, writes Steffen Grosshauser at BullionVault.
Crude oil slipped back below $50 per barrel after an overnight jump, but the Euro held at 1-month highs to the Dollar, crushing the gold price for Eurozone investors almost 4.5% from last week's 8-month high at €1221 per ounce.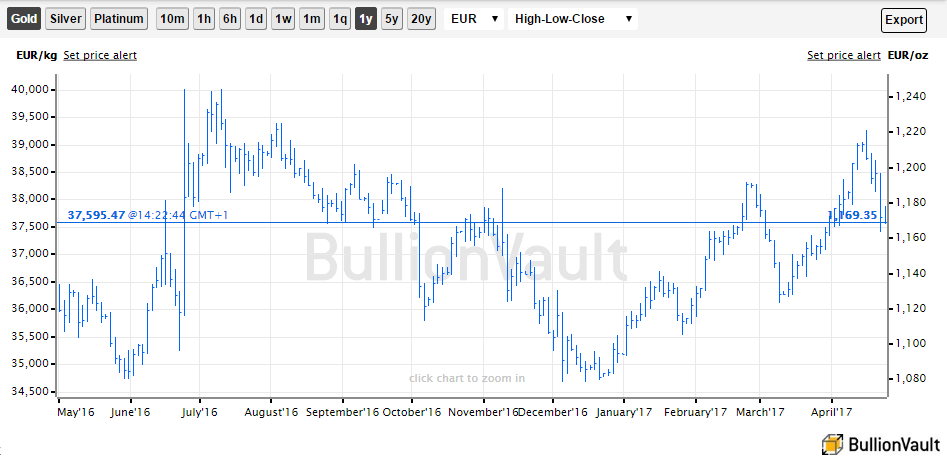 Silver rallied from a plunge near 5-week lows against the Dollar at $17.65 per ounce.
China's President Xi meantime
called for calm
over North Korea's nuclear threats as US Navy aircraft carrier Carl Vinson sailed towards the neighboring Sea of Japan.
"Macron is the favourite of the markets, so there's been a collective sigh of relief," explained Tony Farnham at Australian stockbroking and financial services firm Patersons Securities overnight.
"As a result there was an exit out of the safe haven of gold
into riskier investments
like stock markets and foreign currency exchange."
Monday morning's benchmarking auction saw London gold prices fix at $1271 per ounce, down almost 1% from Friday's afternoon level.
The Stoxx Europe 600 index of major shares meantime rose 3.8%, heading for its biggest advance since after the Brexit referendum last June.
The French CAC40 surged by 4.4%.
The 39-year old Macron – a former investment banker standing as an 'anti-establishment' candidate for a political party launched only last year – will now face second-placed Marine Le Pen of the anti-Euro, anti-immigration National Front on 7 May.
Macron has now been backed by most of Sunday's losing contenders,
except for third-placed
Jean-Luc Mélenchon of Unsubmissive France, a new party also launched in 2016.
"It appears markets were pricing in the worst-case scenario," said Australia and New Zealand Bank (ANZ) commodity strategist Daniel Hynes.
"Yesterday's outturn was very much as opinion polls had predicted," said Phillip Shaw, London-based chief economist at Investec Securities.
"But markets haven taken comfort from the avoidance of a Le Pen versus Melenchon run-off."
"Gold prices have fallen sharply this morning due to the improvement in risk sentiment," agreed Singapore-listed bank OCBC' analyst Barnabas Gan.
"It does remove some of the suspense and risk-off sentiment we saw late last week."