GOLD PRICES sank 1.5% versus a falling US Dollar in Asian and London trade Monday morning, extending Friday's fall from multi-year highs as world stock markets surged after UK opinion polls showed the Brexit campaign losing momentum ahead of Thursday's referendum on membership of the European Union.
Having gained less last week, silver fell less on Monday, trading just 0.5% lower from Friday's finish by lunchtime in London's wholesale bullion market.
Eurozone and London shares jumped 3.5% on average, adding £50 billion to the value of the UK's FTSE 100 index, as the Pound
jumped back to $1.46
on the FX market.
Falling from just below $1300 to trade beneath $1280 per ounce, gold prices touched 2-year Dollar highs at $1315 last Thursday – the day that UK politician Jo Cox was murdered,
spurring a halt to campaigning
by both Leave and Remain leaders.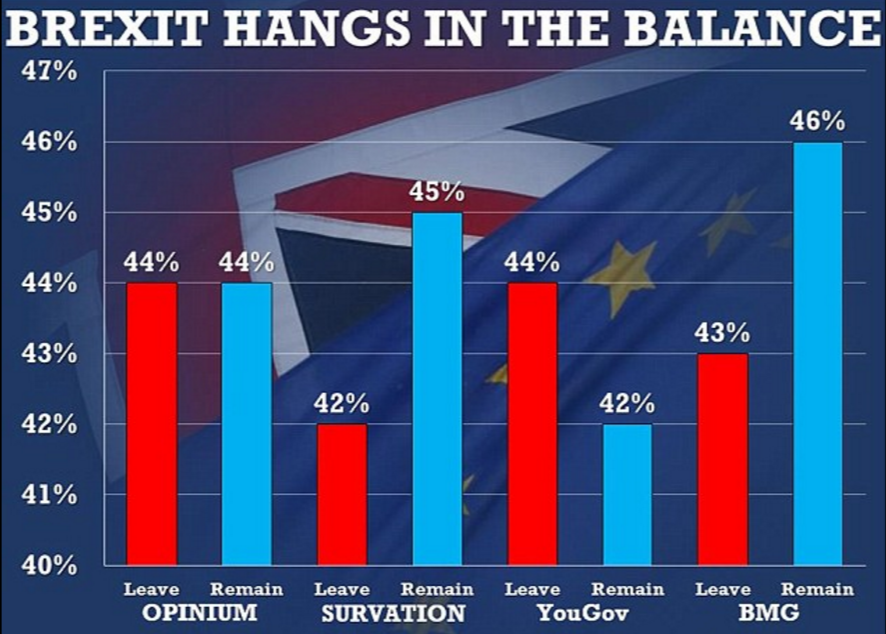 "Clearly this is helping calm the financial markets again somewhat," say analysts at German financial services group Commerzbank, "as a result of which gold is currently in less demand.
Studying failed independence referenda in Quebec and Scotland, says German financial services group Deutsche Bank's strategist Jim Reid, "The Leave lead
might need to be more than 5%
for there to be high confidence that this will be the final result."
Priced in British Pounds gold has now lost 7% from Thursday's 3-year high at £939 per ounce, and lost over 4% from €1189 per ounce in Euros.
Priced in the Japanese Yen, gold has now halved 2016's early gains, adding 5.5% from New Year's Eve.
That earlier strengthening had seen
Shanghai gold prices fix
at the equivalent of $1300 per ounce, even as London settlement was quoted nearer $1283.
US brokerage INTL FC Stone has
raised the downpayment charged to clients
trading gold, silver, Sterling and Euro derivatives, demaning 200% of the minimum margin required by exchange provider the CME Group.
"The recent surge in support for the Remain camp may have an
influence on US monetary policy
," Bloomberg quotes Australian bank Macquarie's analyst Matthew Turner in London, "with a win likely to give the Fed greater scope to increase rates sooner rather than later."