GOLD PRICES slipped Monday morning, dropping $12 per ounce below last week's 2.5-month high as China's stock market rallied at its fastest since 2015 on a raft of 'support' promised by Beijing, writes Atsuko Whitehouse at BullionVault. 
Europe and other Asian equity markets rose less steeply, while gold prices traded down to $1221.50 per ounce.
International tensions meantime worsened over Saudi Arabia's apparent murder of a US-based journalist, plus the UK Government's attempt to conclude a Brexit deal with the European Union, as well as Italy's planned 2019 budget deficit. 
"Supportive price action around $1210-1220 should
restrict declines
amid current global political uncertainty," reckons the gold trading desk at Swiss refiners and finance group MKS Pamp.
"A test through $1230-1235 will likely squeeze further shorts out of the market and see gold toward $1250."
Starting from their heaviest net-negative betting against gold prices on record, hedge funds and other 'Managed Money' traders last week more than halved their bearish position on Comex gold futures and options, according to US regulator the CFTC.
Net of that group's bullish bets, the overall short position fell 63% to the notional equivalent of 116 tonnes, remaining net negative for the 14th week running, still the longest period since
this data series
started in June 2006.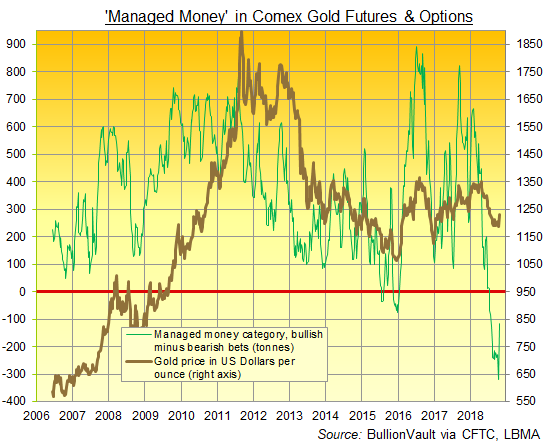 "After what has been a tense and terse month for Asia equities as a whole, they're
taking a breather
, but that's not to say volatility is going away," reckons Kerry Craig, global market strategist at US investment bank J.P.Morgan's asset management division.
The CSI 300 index of companies listed on the Shanghai and Shenzhen stock exchange – which sought to reassure investors about 'share pledges' used as security for big loans – closed up 4.3%, its largest one-day gain since November 2015, as the People's Bank today
injected $17 billion of 'liquidity'
into China's banking sector.
Answering Friday's news of the slowest GDP growth in the world's No.2 economy since the global financial crisis with
promises of "support"
for China's financial markets, Beijing also released a plan to cut personal income taxes, while President Xi Jinping vowed "unwavering" support for non-state firms at the weekend.
Saudi Arabia's foreign minister Adel al-Jubeir meantime told Fox News at the weekend that journalist Jamal Khashoggi was murdered by a "rogue operation" in Istanbul, leading US President Donald Trump to say there has been
"deception" and "lies"
in Riyadh's story.
The UK, France and Germany issued a joint statement expressing saying "Nothing can justify this killing and we condemn it in the strongest possible terms."
Italy's borrowing costs dropped early Monday after ratings agency Moody's on Friday kept the country's sovereign ratings
above "junk bond" status
, cutting Rome to Baa3 from Baa2 because of concerns over the coalition government's spending and tax plans but potentially misreading
the longer-term cost impact
.
The yield spread on 10-year Italian government bonds over German Bund yields fell
back below 300 basis points
for the first time in a week, only to rise again in afternoon trade after the Finance Ministry said it is "necessary" to breach EU rules on Rome's 2019 deficit.
Like Italy's debt prices, the Euro currency failed to hold a rally, keeping gold prices for European investors near last week's multi-month highs at €1063 per ounce.
The UK gold price in Pounds per ounce also moved sideways, trading at £940, after Dominic Raab, the Brexit Secretary, said he "understands" fellow Conservative Party members worried about the so-called "Chequers Plan" locking the UK into European Union rules and costs for an extended period.
Un-named backbench Tory MPs told The Sunday Times yesterday that Prime Minister Theresa May should
"bring her own noose"
to a meeting later this week, warning that "The moment is coming when the knife gets heated, stuck in her front and twisted. She'll be dead soon."
Saturday saw over 600,000 protesters
march through Central London
to call for a public vote on whatever Brexit deal is negotiated, with the majority of speakers opposing the 2016's referendum's narrow result.