GOLD PRICES headed for their best week in Dollar terms since March in London on Friday, nearing a 2.1% gain after US jobs data for November badly missed Wall Street forecasts.
With analysts expecting growth of 200,000 in non-farm payrolls, the
Bureau of Labor Statistics
 reported a 155,000 net addition and also cut October's figure by 5%.
The Dollar fell to this week's lows against the Euro currency at $1.14 as gold prices held above $1243 per ounce.
Gold priced in Euros had earlier edged back above €1090 after new data said the 19-nation currency union slowed to 1.6% annual economic growth between July and September with the weakest quarterly GDP change in 4 years.
"A peaking US Dollar creates upside room for gold," says the latest analysis from Marcus Garvey at Chinese-owned bullion bank ICBC Standard.
"Specifically, we believe that the [US Fed] will hike at a slower pace…becoming more cautious as real short-term interest rates approach their estimated equilibrium level."
"Gold prices have declined so far this year," says Dutch bank ABN Amro, "but 2019 and 2020 should be positive again."
Keeping ABN's year-end target for 2019 at $1400 per ounce, "speculators [currently] have little faith in the upside potential for gold prices," the bank's Georgette Boele says.
"But we think the risk reward for entering long gold positions is quite attractive."
ICBC also points to late-2018's position on Comex gold derivatives among non-industry traders, calling it "abnormally low".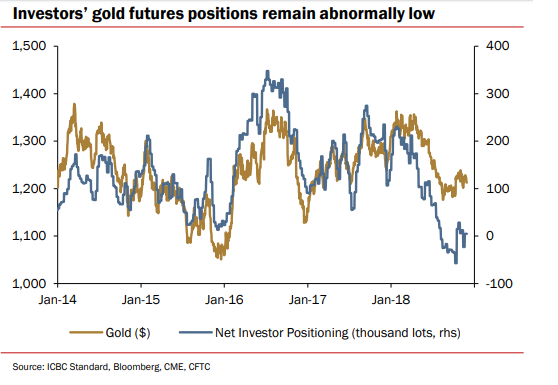 For gold prices to fall in 2019, ICBC says, would require an "extension of US growth outperformance, with increased productivity growth…steepening the yield curve, as the [Fed] hiking cycle continues."
Analysts at Germany's Commerzbank this week said they expect the gold price to reach $1350 by the end of 2019.
Holding 14 tonnes of gold bullion in custody meantime for the government of
Venezuela, the Bank of England
has been urged to cancel a meeting with Caracas' finance minister and central bank chief apparently scheduled for today.
With 3 million people fleeing Venezuela since 2015 amid hyperinflation, food and power shortages, the rise of death squads and the collapse of law, "The most egregious of [Venezuela's] corrupt systems is the currency exchange system…under the control of [those] two individuals,"
says a letter
from UK lawmaker Andrew Lewer MP.
Finance minister Simon Zerpa is under sanction by the US. His predecessor Alejandro Andrade was last month
sentenced to 10 years in jail
by a US court for taking over $1 billion in bribes for giving wealthy contacts favorable exchange rates on foreign currency transfers amid Venezuela's tight exchange controls.
Maduro yesterday ended a 3-day trip to Moscow by announcing a deal for
$5 billion of Russian investment
into Venezuela's oil sector and a further $1bn into its gold-mining industry.
New UK data today put house-price growth in the world's 5th largest economy at its
weakest since 2012
as politicians continue to debate next week's key parliamentary vote on Prime Minister Theresa May's deal with the European Union for Brexit in March.
Kent County Council yesterday
forecast gridlock on the region's roads
, disrupting schools, hospitals, local government, migration control and business including food delivery in the event of a 'no deal Brexit' causing delays to freight moving through Dover.
Several major French retail chains said today
they will shut this weekend
, as will some major tourist sites in Paris, in anticipation of more violent protests by the so-called 'gilets jaunes' who this week forced President Emmanuel Macron to suspend planning 'green tax' hikes on energy and fuel.
China meantime demanded the release from Canadian custody of tech-giant Huawei's chief financial officer Meng Wanzhou for extradition to the United States over allegedly breaching US sanctions against Iran.
A major provider of telecoms equipment worldwide, Huawei has apparently
"caved in" to requests
from the UK's GCHQ National Cyber Security Centre to fix technical "shortcomings" in its telecoms equipment vulnerable to hacking.