GOLD PRICES extended their New Year 2018 rally against the Dollar in London on Wednesday morning, rising for the 10th time in 11 trading days.
In the last 50 years the Dollar price of
gold bullion
has beaten such a run only 7 times before.
Touching $1321 per ounce in 'spot' trading, physical bullion fixed at $1314.60 in Wednesday's AM London Gold Price auction, the highest benchmark value since mid-September.
Since this run began on 14 December physical gold bullion offered for settlement in London has now gained 5.9% in US Dollar terms.
Gold was last this strong in February 2016, its best-ever run of day-on-day gains at London's morning benchmarking auction.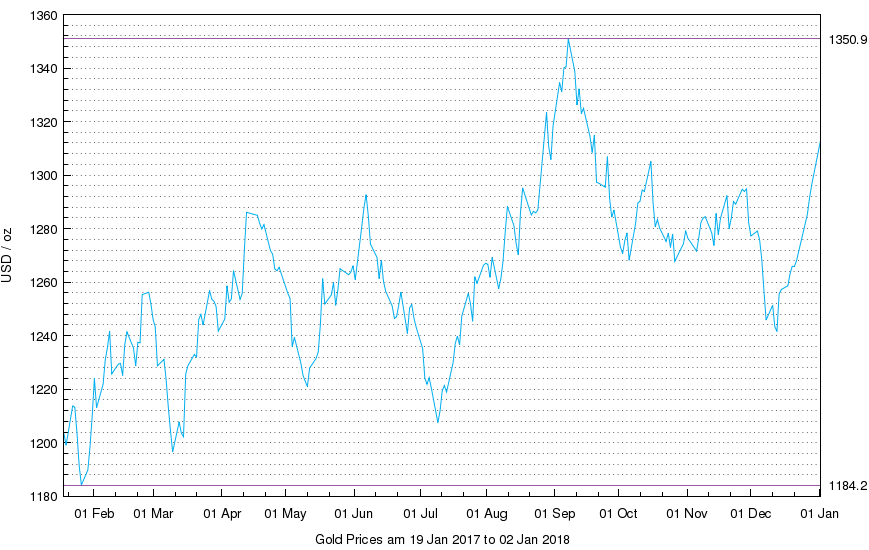 "Gold has reclaimed the 200-day Moving Average [now at $1267]," said a technical analysis from bullion market makers Societe Generale on Tuesday, "and short term it should head towards $1313,
[its] September high and the 61.8% retracement of recent down move."
Above there, SocGen sees resistance around $1330 and then $1350 – the "neckline of [a bullish] multi-year
inverse Head and Shoulders
" formation.
Silver meantime fixed at $17.125 at midday Wednesday, rising for the 9th time in the last 10 trading days.
Its best run since April 2016, that has only been matched or beaten 24 times since 1968.
"Momentum indicators are bullish," says a technical note from bullion market-makers Scotia Mocatta's New York office, "as silver appears poised to target the November high" at $17.35 per ounce.
World stock markets also continued their New Year 2018 surge following New York's fresh all-time highs overnight.
Commodities as a group stalled however, holding little changed overall from Tuesday's new 2-year highs on the
Reuters-Jefferies CRB index
.
On the political front, the regime in North Korea re-opened a telephone line to the democratic government in South Korea
for the first time in 2 years
as dynastic dictator Kim Jong-un said he'd like to discuss sending athletes to next month's Winter Olympics in Pyeongchang.
Responding to Kim's claim that his nuclear arsenal is ready to fire at any time, "I too have a Nuclear Button," tweeted US president Donald Trump, "
but my Button works!
"
The regime in Tehran called for pro-government protests to counter marches and calls across No.5 oil-producer nation Iran for its theocratic leadership to quit over high inflation and worsening living standards.
European regulators
meantime backtracked on parts
of today's new 'Mifid II' rules, granting an extra 30 months for derivatives platforms from base-metal venue the London Metal Exchange to LIFFE, Eurex and Intercontinental Exchange to comply with the new requirements.
Directed by the European Union, the raft of new rules due to come into force today aim to protect investors in financial instruments from shares to bonds, derivatives and collective schemes by boosting transparency.
"Mifid II is expected to cost the finance industry
more than €2.5bn to implement
," says the
Financial Times
, "with the largest banks spending more than €40m each on compliance."
While physical property including wholesale bullion is beyond the scope of new regulation, over-cautious interpretation of new regulations by banking compliance departments has
been blamed for problems
with the London benchmarking auctions since the century-old 'fixings' were replaced by independently administered electronic processes starting in 2014.