GOLD PRICES rose against all major currencies on Thursday, rallying above $1315 per ounce in Dollar terms after the US Federal Reserve held its key interest rate unchanged.
Despite manufacturing survey data this week pointing to bottlenecks and cost-price inflation at a 7-year high, the Fed altered key phrases in Wednesday's policy decision statement, suggesting that new chairman Jerome Powell is willing to tolerate the cost of living rising faster than the central bank's 2.0% annual target.
Official new economic data today showed US productivity and labor costs rising less than analysts forecast in the January-March quarter.
Betting on the Fed raising a total of 4 times this year eased back this morning according to the CME derivatives exchange, with the heaviest bet – that 2018 will see only 2 more rate hikes after March's increase – growing above two-in-five of speculative positions.
"With rising interest rates on the one hand, and a sharp spike in stock market volatility on the other, gold investment was mixed" between January and March, said the mining-backed World Gold Council on Thursday, releasing its latest Gold Demand Trends report.
Against steady jewelry and strong central-bank buying, gold investment demand fell 27% from the first quarter of last year, pulling the global total down 7% to its lowest Q1 level since 2008 on the WGC data.
"Gold prices were [also] relatively subdued, [meaning] many investors lacked a clear signal."
Q1's weak gold investment demand extended into April, data from BullionVault showed earlier this week.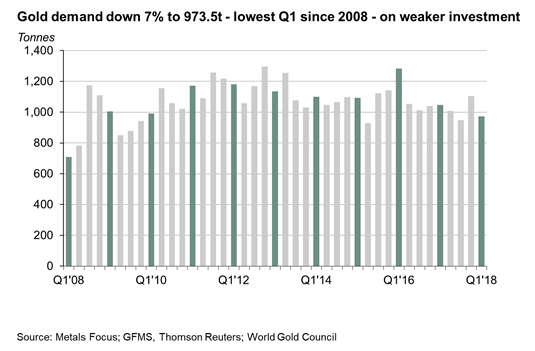 "On a 12-month basis," said Wednesday's US Fed statement, "both overall inflation and inflation for items other than food and energy have moved close to 2%.
"[But] market-based measures of inflation compensation [ie, wages] remain low; survey-based measures of longer-term inflation expectations are little changed, on balance."
Also re-arranging a series of key words and phrases to stress that the 2.0% target for annual US inflation is "symmetric" rather than a ceiling, "I think the Fed are suggesting they will allow inflation to move higher…[and] won't overreact to in the near-term," reckons Cary Leahy at Decision Economics in New York, part of the IHS research and consulting group.
The Fed also dropped a key phrase about "monitoring current conditions closely". That "essentially admits a soft patch" in US economic growth says Leahy.
Global stock markets fell Thursday morning, extending last night's lower close on Wall Street, as commodities held flat and major government bond prices rose.
That pushed 10-year US Treasury yields down to 2.93%, ten basis-points below last Wednesday's 51-month high above the 3% mark and the lowest level in 2 weeks.
Both the Euro and British Pound meantime saw gold prices rise near their highest since mid-January, gaining 0.5% and 0.7% for the week so far respectively at €1098 and £968 per ounce.