GOLD PRICES rallied Wednesday morning ahead of the Federal Reserve's May meeting on US interest rates, adding 0.5% from yesterday's drop to within $3 of $1300 per ounce – a level last seen before New Year 2018.
Ahead of the Fed's decision, latest survey data said Tuesday that
US manufacturing activity slowed
to a 9-month low in April, while labor and supply shortages worsened and cost inflation jumped yet again.
With the
Institute for Supply Management
's Prices Paid index hitting its highest level since 2011, the ISM's PMI activity index for April retreated further from early 2018's near-16 year high.
"
Backlogs at a 14-year high
, supplier delays rising (bottlenecks) and prices at a 7-year high," tweeted Gluskin Sheff economist David Rosenberg.
"Capacity constraints are binding."
Betting on today's decision by speculative traders now puts the likelihood of "no change" above 94%, with a smaller than 6% chance the Fed will raise.
Betting on June's decision now sees the very same likelihoods put on rates rising to 2.0% or 2.25% at next month's meeting, when the Fed will also update its economic forecasts and give a press conference.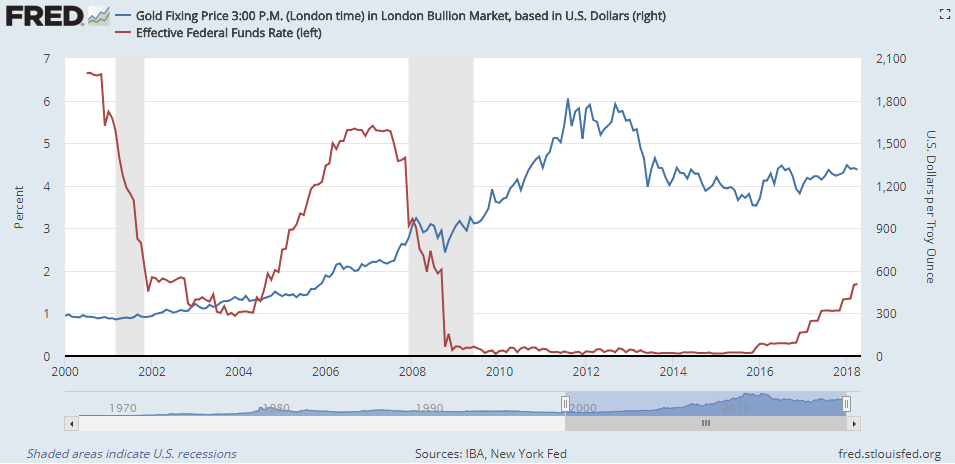 All 6 of the Fed's rate rises since end-2015 have been coincided with these quarterly updates and press conference.
"Fed speakers have done little to push back against this expectation,"
Reuters quotes
US investment bank J.P.Morgan economist Michael Feroli.
"We expect no fireworks."
Gold priced in Dollars rose 61% during the Fed's 2004-2006 rate-hiking cycle. It has risen 23% since the Fed began the current cycle by finally hiking from zero in December 2015.
Tuesday's drop in gold prices saw the SPDR Gold Trust (NYSEArca:GLD) – the world's largest gold-backed investment trust – shrink in size for the first time in a month.
Now needing 5 tonnes less gold as shareholders exited the stock, the GLD had ended last week with 871 tonnes – its largest size since Donald Trump's shock US election victory in November 2016.
In contrast to the US, UK and Japan, new manufacturing data from the Eurozone today showed activity in the world's largest single currency zone expanding again in April.
Initial GDP data meantime said the 19-nation Eurozone economy grew as analysts forecast between January and March, expanding by 2.5% to beat both the US and UK but slowing from end-2017's annual pace of 2.7%.
The Euro held firm on the FX market near yesterday's 4-month lows versus the Dollar, keeping the gold price for German, French and Italian investors unchanged from the weekend at €1090 per ounce.