GOLD PRICES rallied $5 per ounce from 1-week lows against the Dollar in London on Thursday, touching $1246 and also rising versus other major currencies as Donald Trump said he has wrung a promise of higher military spending out of other Nato member states, and new US data showed the cost of living rising in June at the fastest annual pace since January 2012.
Gold priced in the Euro recovered most of the week's earlier 0.5% drop to regain €1067 per ounce.
The UK gold price in Pounds per ounce meantime held near 3-month lows at £942 as the Government of Theresa May finally unveiled its policy proposals for "
the future relationship
between the United Kingdom and the European Union", promising "a principled and practical Brexit".
The European Union today cut its 2018 growth forecast for the world's largest free-trade zone from 2.3% to 2.1%, citing "
a clear downside risk
[from] protectionist measures."
Inflation in the US Consumer Price Index hit 2.9% last month, up from 2.8% in May and in line with economists' forecasts.
"But most economists expect the Fed will raise rates a total of four times this year as it attempts to keep inflation in check without cutting off growth."
Betting that the Federal Reserve will raise US Dollar interest rates twice more in 2018 has now jumped from 40.1% of speculative positions to 57.1% over the last month
according to data
from derivatives exchange the CME Group.
"With the labour market exceptionally tight and activity expanding strongly, we think that core inflation has further to rise," reckons UK consultancy Capital Economics.
"The prospect of further tariffs on Chinese imports will only add to that upward pressure."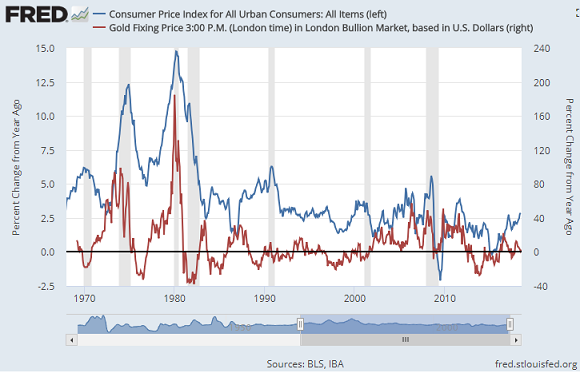 World stock markets meantime bounced Thursday, with China gaining over 2% as crude oil also rallied from this week's earlier sell-off from multi-year highs.
"Rising production from Middle East Gulf countries and Russia, welcome though it is, comes at the expense of the world's spare-capacity cushion, which might be stretched to the limit," warns the Paris-based International Energy Agency
in a new report
.
With silver prices setting a new 7-month low at Wednesday's
London benchmarking
, investor demand for ETF leader the iShares Silver Trust (NYSEArca:SLV) expanded by 0.2%.
That saw the SLV need a new 11-month record of 10,130 tonnes in bullion backing.
The
UK gold price in Pounds per ounce
meantime slipped near 3-month lows at £942 as US President Trump arrived in Britain for a two-day visit, set to marked by protests in London. 
French President Macron today contradicted the claim of higher spending promises from Nato members made by Trump – who, contrary to earlier rumors,
did not threaten
to pull the US out of Nato according to Lithuanian President Dalia Grybauskaite. 
After commenting on the UK's Brexit negotiations, "[Trump] is going to express disappointment that the British government is not going to be in a position to negotiate a trade deal with the United States," one
newspaper quotes "an insider"
. 
In its policy paper, "The government
has backed down
from its calls for mutual regulatory recognition post Brexit," says
Investment Week
magazine, "and will now push for a deal that will see UK and EU financial services firms' access to each other's markets scaled back when the country leaves the bloc."
"Some MPs are already calling it
a 'hard Brexit' for services
," says the BBC's political editor Laura Kuenssberg, "even though overall the deal suggests much closer ties to the rest of the EU than many Brexiteers had desired."